Lineman Employment Agency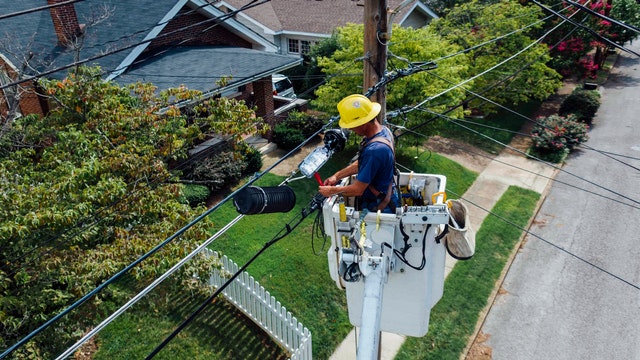 Looking to simplify your staffing?
Tier2Tek Staffing provides premier employment solutions for Lineman staffing.
The main responsibility of the role is to install and repair telephone poles, cables, and transformers.
Need to hire in December 2023?
---
What Does an Electrician Do
Need an expert technician to install overhead and underground electrical transmission? Need a safety specialist to make sure the work meets requirements? You are looking for Lineman staffing.
The Lineman Technician is both certified and licensed to work on underground and overhead electrical systems. Wonder how those colossal telephone poles and wires are set up? Wonder how a worker gets so high in the air and safely installs electrical systems? That's the magic of lineman work.
Simply put, the Lineman helps install and maintain service lines, transformers, and meters. This work may involve installing telephone poles, digging underground, and preparing damaged wire. If a storm or accident manages to turn off your home's power, these are the workers that fix it.
Ultimately, linemen may often find themselves as travelers. Utility companies often call in a multitude of linemen when hurricanes are intense storms that surge through the country. They are the heroes that keep your lights on.
Need to expedite your Lineman hiring process? Let the experts handle it for you!
Example Responsibilities for Lineman Staffing
Overall, strives to provide the best customer experience every day.
Firstly, installs and/or repairs aerial cable tv (CTV) coaxial and fiber cable.
Then, places, relocates, and removes poles, lines, open wires, drops, and block wires to maintain efficient operation of the customer's facilities.
Secondly, sets up a safety perimeter using signage, cones, and safety barriers.
Furthermore, Foreman Lineman leads Groundman in daily work to safely complete jobs.
Directs traffic in accordance with local Department of Transportation (DOT) guidelines as necessary.
Installs and removes distribution transformers and associated devices, conductors and equipment on poles and buildings, and safety equipment on conductors.
Works with stringing, splicing, sagging, and insulating conductors and wires.
Finally, installs and removes poles, structures, and associated devices.
Performs switching and tagging operations under the direction of management.
Patrols transmission and distribution.

Why Work With Tier2Tek Staffing?
Overall, we stand by honesty and communication. We stay in contact with you throughout the entire hiring process. There are no hidden fees or stipulations.
Furthermore, we assign every client a personalized account manager. This allows us to learn about your company's culture and candidate qualifications.
Finally, we have a national database of prescreened candidates ready to work. We can fill any hiring volume with efficiency.
If and when you need a reliable staffing agency that can fulfill your direct-hire staffing needs, Tier2Tek Staffing is the right choice.
Overall, Tier2Tek Staffing has a dedicated team of recruiters that have strategies and resources for attracting and retaining top talent in any organization.
---