High-Volume Staffing Agency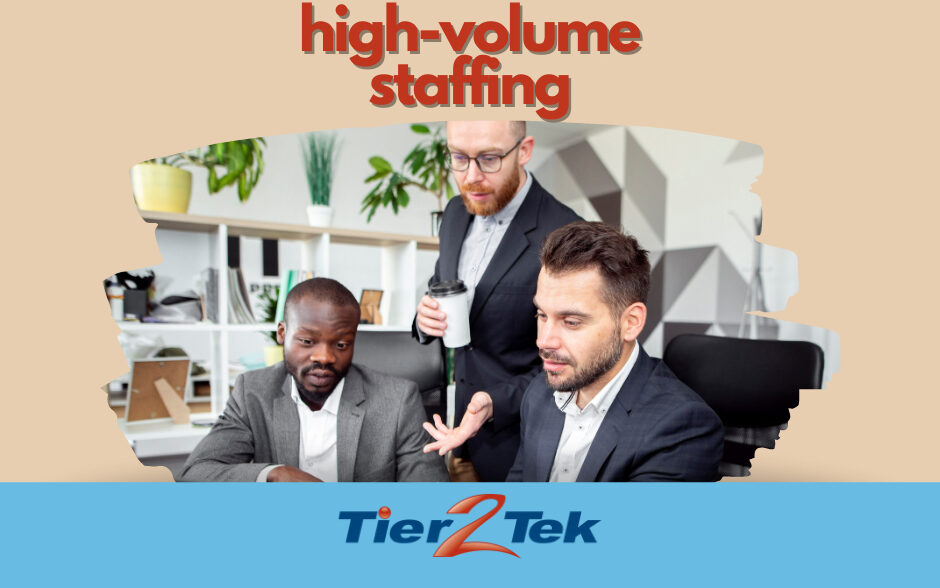 High-Volume Staffing is when a company needs to hire a large magnitude of employees in a limited amount of time.
The selected candidates are placed in a permanent position within the company and the staffing agency is provided a commission for their service.

---
How Does High-Volume Staffing Work?
Hiring one fantastic candidate can be a challenge. Now imagine hiring over 50.
According to a PR Newswire study, almost two-thirds (65%) of companies surveyed had high-volume hiring needs. Do you?
Sometimes when a company grows faster than expected or has a surge of needs during the holidays, they need new employees fast.
When a company needs to fill multiple roles in a timeframe, they look to staffing agencies to help expedite the process. Staffing agencies like Tier2Tek can make high-volume staffing easy, whether it be a large number of candidates in one field, candidates in a plethora of fields, or candidates for different locations.
Below is a comprehensive list of the benefits of working with a staffing company to help fill positions quickly and efficiently.
Factors to Consider When Staffing for High Volume
Recruiting is an art that takes time and experience to get right. Moreover, the process of advertising and sourcing for multiple positions can take considerable time, resources, and money.
When hiring for a large number of roles, it's important to look at a few factors.
What is Your Company Culture?
Before building a whole new team, it's crucial to know what company culture you are trying to instill. Not only does this help you find the right candidates, but it helps you expedite the process. Interview questions can be more precise and finding the right candidates can be more clear.
What is the culture you are trying to build? What are your values as a company?
Save on Resources
The fact of the matter is, countless applicants apply for a vacant position, let alone multiple positions. As a result, it takes a lot of resources to review hundreds of resumes that provide only a handful of qualified candidates. Staffing firms conduct this meticulous work and identify top talent ready to interview.
What Are the Roles?
What positions is your company trying to fill?
High-volume staffing can be hard to keep track of. What exactly do you need to get your team fleshed out? What are the roles and number of candidates you are looking for?
We Are Here For You
Tier2Tek will provide you with a specialized account manager that is in charge of your staffing and your staffing only. We will help you figure out exactly what roles you need and provide you with quality candidates. With a national database of prescreened candidates, we can get you exactly what you need, when you need it.
---
Benefits of Working with Tier2Tek
for High-Volume Staffing


Candidate Database
We already have a large database of prescreened candidates waiting to work. We can make the hiring process easy, regardless of volume.


Expert Recruiters
Simply put, we know what we're looking for. With a team of dedicated and experienced recruiters, we make sure to get the job done right the first time.


We Learn You
To make sure we get the right fit, we make sure to understand what culture you are trying to instill and what you are looking for in clients.