Staffing for the Food Service Industry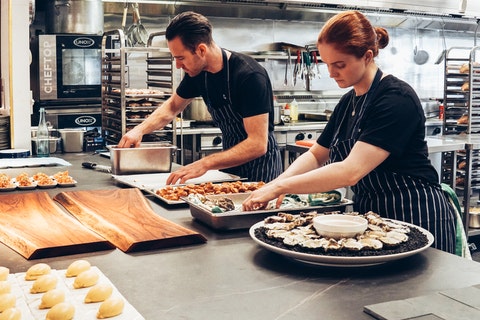 When a company needs help hiring any type of Food Service worker, they can turn to Tier2Tek Staffing. As a staffing agency, Tier2Tek provides various employment types for your unique hiring needs, including Direct Hire, Outsourced, Temp-To-Hire, Temporary, High-Volume Staffing and Seasonal Staffing. Let's find the right staffing solution for your business.
---
What is Food Service?
Everybody has to eat.
The Food Service industry stretches much further than you may expect. Sure, chefs and servers are the backbone of the industry, keeping things functioning and fluid. But, what about distributors? Delivery drivers? Business analysts?
More goes into the Food Industry than what's put on the plate. Manufacturers make food-related equipment. Distributors deliver food products to markets and restaurants. Vendors work to sell products to clientele. Therefore, if you are looking to work or staff in the Food Industry, there is a job for you somewhere.
Whether your company is looking for servers, cooks, or salesmen, if it's food, it's the Food Service industry.
Roles expand from running restaurants to supplying grocery stores and markets.
5 Food Service Industry Facts
The Food Service industry is divided into welfare sectors, commercial sectors and other industry sectors.
World Bank estimates that the Food Industry takes up 10% of all economic output, putting it as the largest sector of global economy.
The U.S. food and beverage industry employed over 1.7 million citizens in 2019.
It is estimated that the American household spends an average of $3,008 per year dining out.
There were more than one million restaurants operating before the Coronavirus pandemic. Unfortunately, over 110,000 closed by December of 2020.
Positions We Staff
Need to hire Food Service workers? Regardless of position or employment type, Tier2Tek Staffing is here to help with all of your hiring needs. Simply put, we strive for efficiency and transparency. We take the time to get to know your company.
From cooks to delivery drivers, Tier2Tek has a database of prescreened candidates ready to work. As a staffing agency, we would never present you a client that we would not hire ourselves.
---
---