Outsourced Staffing Services
We Take Care of Screening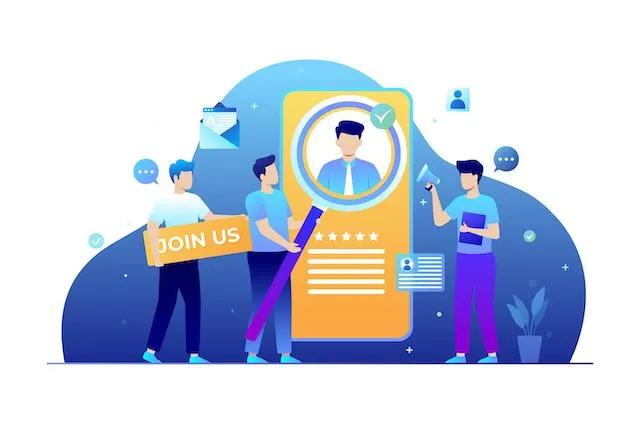 Outsourced Staffing is when a business subcontracts an internal position with an employment agency on a permanent basis. For example, positions like the IT service desk, customer care, and call center agents are often outsourced to a staffing agency. Businesses prefer to outsource these positions to a specialized recruitment company because of their expertise. Recruitment companies can commit full-time resources to fill these high-volume positions. Find out more about our Staffing Services.
---
How Does Outsourced Staffing Work?
It makes financial sense to outsource some departments within a business. First, the staff outsourcing process works by finding the right staff outsourcing service provider.
For example, businesses should analyze the capabilities of the outsourcing recruiting company and the terms of the partnership. If outsourcing for a specific position is deemed beneficial, businesses should select a specialized staffing agency to help them with this task.
After selecting a suitable agency, the business can provide a job description and a set of criteria for suitable candidates.
Next, the selected recruitment provider will start screening and interviewing candidates for the vacant positions. Afterward, the staffing agency will provide the best candidates for final interviews.
Once the final candidates are selected, the outsourced staffing company will be responsible for all employment costs and paperwork.
As a result, the outsourced contract employee works at the client's location but is fully employed by the outsourced staffing agency.
When HR outsources the staffing of a department to an outsourced staffing company, the employees remain as contractors who provide the services to the business.
Tier2Tek provides staff outsourcing solutions to many businesses in multiple industries. Let us know how we can help with your high-volume staffing needs.
Outsourced Staffing Benefits
Outsourced staffing has many benefits that businesses can take advantage of. Most successful businesses use outsourced staffing companies for recruitment because they understand that a specialized outsourced staffing agency can dedicate full-time resources to the recruitment process. As a result, agencies find some of the best talent available in the market.
Successful businesses also understand that a specialized staffing agency dedicates most of its time to screening and interviewing candidates. Businesses can focus on operations while the staffing agency manages their recruitment process.
In addition, businesses understand the importance of having dedicated recruiters working around the clock. Therefore, one will find that a majority of Fortune 500 companies partner with staffing agencies for their recruitment needs.
Dedicated Specialized Recruiters
When working with HR services, businesses have dedicated recruiters working full-time to help fill positions.
In most internal HR departments, recruiters screen and interview multiple departments instead of finding the best candidate for a specific area. These recruiters can be stretched thin. For example, an HR recruiter may be looking for candidates in IT, marketing, engineering, legal, finance, and so on. In most cases, they do not have the technical expertise to screen candidates for specific roles.
Working with a dedicated recruiter from a specialized staffing agency allows businesses to leverage industry experts who can source and screen the ideal candidates. As a result, businesses get the best candidates available in the market through recruiters who specialize in their field.
Focus on Operations, Not Staffing
Businesses can focus on their operations when working with outsourced recruitment agencies.
Businesses often exhaust valuable time with screening and interviewing. By leveraging employment agencies, businesses save on valuable resources and improve the bottom line.
Save on Employment Costs
The recruitment process is expensive. The costs range from developing the job description to onboarding an employee.
More importantly, hiring a bad employee can be even more costly. Staffing agencies have decades of experience that helps them avoid bad hires.
All in all, businesses use staffing agencies to save time and money. Nothing is worse than going through the process of hiring a candidate to find out they're not the right fit.
Industry Expert Recruiters
One of the most important factors in using a recruiter is their overall expertise. Regardless of the industry, specialized recruiters have a lot of experience in their fields.
Working with expert recruiters allows businesses to tap into their expertise.
Working With Tier2Tek for Outsourced Staffing
When you work with Tier2Tek, you get one of the best recruitment agencies available in the market. Our clients have dedicated, full-time recruiters who get to work immediately.
In addition, we focus on your hiring needs and deliver beyond expectations.
Most importantly, we understand that our candidates represent our reputation. Therefore, we only provide the best available candidates in the market. As a result, more and more businesses depend on Tier2Tek staffing for their recruitment needs.
Work With a Specialized, Dedicated Account Manager
Based on your industry, a specialized account manager will work with you day in and day out.
We understand your time is valuable. Therefore, we only contact you with the best candidates available.
Our clients trust us because of the relationships we build. Our dedicated account managers will make sure we provide you with the best-in-class staffing services.
Getting Started
Let us know how we can help you with your staffing needs today. Simply email us or call us directly. We look forward to learning more about your business and helping you fill vacant positions.