Need help updating a resume? What is the best way to update it? It is very important to make sure it catches the attention of hiring managers.
In other words, how do you effectively do that?
When a company puts up a job, hundreds of candidates can apply for the vacant position. First, the initial screeners glance at the resumes as fast as they can. That is to say, you have only a few seconds to catch the attention of the initial screener.
Our staffing agency reviews countless resumes every day. In fact, we screen more candidates than most internal HR departments. As a result, we have found what works and what does not in a resume.
Here is our guide to updating your resume and catching the attention of hiring managers.
Formatting
First and foremost, you need to have an organized and clean looking template. It also needs to be eye catching. In other words, the template needs to catch the attention of the initial screener.
If your resume looks bland, it may still pass the test. However, the screener may not give you more time as it may look like you did not put much effort into creating the resume.
Attractive Resume Template
Your resume should have a modern template that is eye catching and modest. This is actually very simple to do.
First, open Microsoft word and start a new document. Next, in the search section, type in resume. You will see an array of resume templates to choose from. We recommend glancing through the resume templates and choosing about three templates. It is important for you to glance through them and choose a few that you like. Then as your final step, select the best one from the three you narrowed it down to.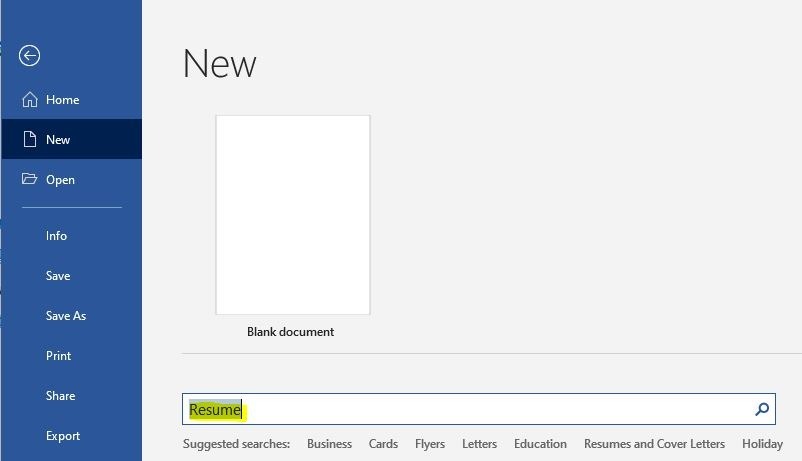 Having a great resume template is extremely important in getting selected by the initial screeners. In addition, a great resume templates shows how well organized you are. Employers evaluate candidates based on the structure of the resume.
Therefore, this is one of the most important factors of having an updated resume.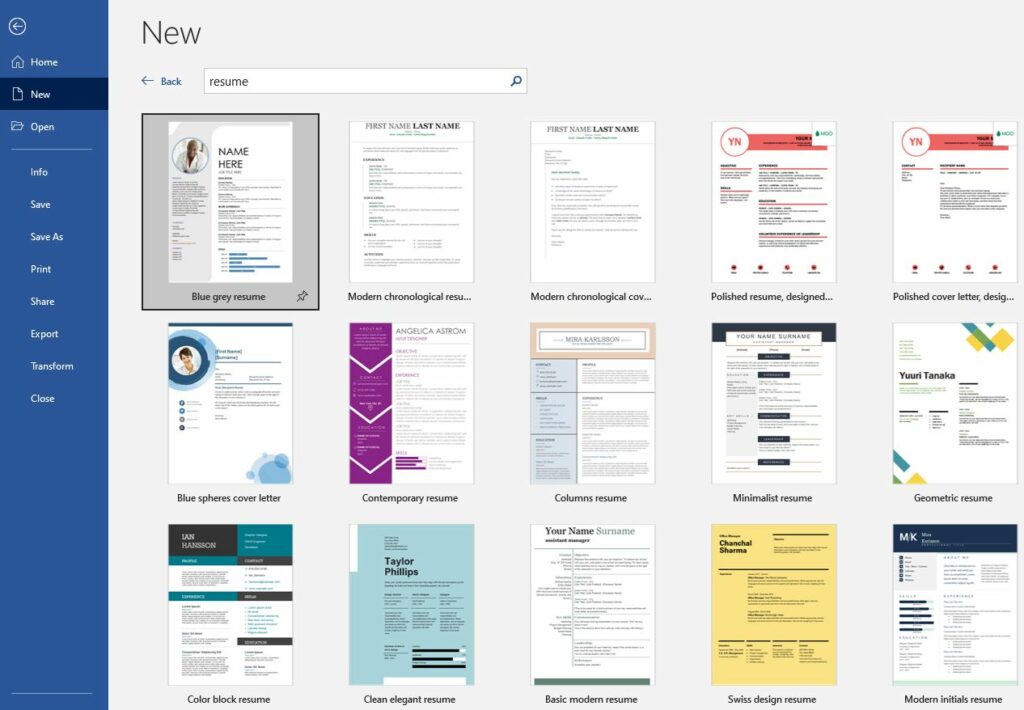 Initial Impression
The initial impression of your resume should be attractive and concise. For instance, look at your resume and imagine it is not yours.
Would you want to talk to this candidate? Is the content easy to read or is there too much information?
Most importantly, does the resume look appealing?
By having the right formatting and a great resume template, you have a better chance of getting contacted.
Keep The Content Simple
Oftentimes, candidates will put every detail about their job in the resume. In other words, they fear that they will not mention some detail and a hiring manager would disqualify them.
A resume should be simple to read and hit the keywords hiring managers are looking for.
For example, let us say a hiring manager is looking for an entry-level IT support analyst. The hiring manager wants to see specific skill sets in the resume.
The mistake many candidates make is that they type a whole sentence around that skillset. They feel they need to explain what they did with that skillset.
The goal is to keep the content of the resume clear, simple, and easy to read.
As a result, you will win over the attention of hiring managers and they will call you to ask you more details about your skill sets. That is when you speak more in detail about what you did in your position.
Title Under Your Name When Updating A Resume
One of the most overlooked aspects of the resume that candidates neglect is stating a title under their name.
When job seekers create a resume, they assume that a screener will review the resume and figure out what they do. When screeners have 200 plus resumes to review, they do not have the time to review every resume in detail.
Having a title under your name will tell the screener what you do and why you are perfect for this position. You are more likely to get a phone call when you apply for a position.
Keep It To One Page, Two Page Max
We cannot stress this enough. A resume is a high-level view of your background and your skill sets. Busy hiring managers like to see a resume that gets to the point.
In our opinion, a resume should only have contact info, a skills section, employment history, education, and certifications.
The objective section should be taken out as it takes valuable space on a resume. Furthermore, you are trying to grab their attention within 5 seconds. It can take 30 seconds or more just to read the objective section.
You may lose the screeners attention by that time.
Skills Section
After your contact information, you should highlight all your high-level skills. Most importantly, the skills should be bullet points. Avoid having bullet points with long sentences in this area, make it short and concise.
Moreover, avoid using cliché terms such as hard worker, detail oriented and so on. Your skills should reflect your background and how it is relevant to the position you are applying for.
For example, an entry-level IT technician might put skills like windows OS, documentation, TCP/IP, incident troubleshooting and so on.
Information Is Up To Date When Updating A Resume – 2021 Guide
Make sure your employment history is up to date. In addition, ensure that the skills section is updated and relevant for the position that you are applying for.
Always have an updated phone number and email address under your contact information.
Don't Use An Outdated E-Mail Address
Believe it or not, your email address tells employers a lot about how up-to-date you are with technology. In addition, it gives an impression to employers that you are not tech savvy.
Therefore, make sure your email domain is one of the reputable companies in the market today. Let us know if you need help with recommendations on the right e-mail addresses to use.
Reason For Leaving Short-Term Positions
If you have had some short-term positions in your resume, it will be a definite red flag to employers. Unfortunately, we have many candidates contacting us wondering why they are not being contacted after applying for positions.
Regardless of your experience and certifications, employers tend to dismiss candidates who job hop. In other words, they spend months at each position throughout their employment history.
If you have had short-term positions, mention your reason for leaving. If these positions are short-term contracts and the contract ended, make sure to mention it in the resume.
Employers will initially assume that you job hop and possibly disqualify you. For example, with 200 plus resumes, they will not take the time to call you and ask about your short-term positions. Therefore, make sure to provide reason for leaving with each of the short-term positions.
When accepting a new position, make sure it is a position that you want and feel you will thrive in. As a result, you will avoid short-term positions and have a long tenure with each company that you work for.
Help Make It Relevant When Updating A Resume
What we mean by this is make sure your resume is relevant to the position you are applying for.
In addition, make sure your employment history is consistent and relevant. For example, we have seen candidates with multiple jobs in different disciplines. If the work experience is irrelevant, leave it.
In summary, the resume should pertain to the position you are applying for with relevant information.
Updating A Resume On Linkedin
Once your resume is complete, ensure that your Linkedin profile matches your resume. Make sure to have a professional picture of yourself on your Linkedin profile. Finally, ensure that all aspects of your Linkedin profile are filled out. Do not leave anything blank.
References Are Up To Date
First and foremost, never list your references on your resume. Simply put, it is unprofessional to do so and your references may get unwelcomed calls. Have a separate document only for references.
In addition, do not put, "references available upon request" on your resume. When employers are serious about hiring you, they will ask you for your references.
Second, contact each of your references and let them know that you are in the job market. Let them know that they may receive a call from employers.
Conclusion on Updating A Resume
To start getting a lot of calls from hiring managers, a resume needs to be updated and attractive. By following our list, job seekers will find that it will help them immensely in that job hunt.
If you need assistance with updating your resume, please let us know and we can help. Also, take a look at our guide on how to start a career in IT with no experience.