Effective recruitment is an essential part of any company's hiring strategy. The right methodology can take years to master. Many organizations outsource their recruitment needs to staffing agencies to help expedite the process.
How do staffing agencies do it? How do staffing agencies make the process easy?
Not all staffing agencies are alike. The best recruitment firms fine-tune their process, day in and day out. After all, staffing is their primary business, and they need to do it right to stay in business. No one wants to hire specialists with mediocre products or services.
How do staffing agencies master the art of recruitment?
Here is a complete guide on effectively recruiting top talent. This guide can be used for both internal recruiters and staffing agency recruiters.
Understanding the Hiring Manager
Before you can even begin the recruitment process, you need to understand exactly what you are hiring for. The first step is to speak with the manager that is looking to hire. This could be a manager under you at a company that is looking to hire for their department or a manager that has asked you to recruit for their team.
Developing a genuine working relationship with this hiring manager is key to being a successful recruiter. Take the time to understand their needs, team culture, and frustrations. With this information, you can work to identify the perfect candidate for the manager's department and needs.
Who Is the Hiring Manager?
Once you have the name of the hiring manager, do a little research about them. For example, look them up on LinkedIn to further understand their professional background and level of experience.
If another recruiter has worked with the manager that is currently hiring in your business, try to elicit feedback. Some questions to ask would be the following.
Is the hiring manager easy to work with?
How picky is the hiring manager regarding the hiring decision?
Communication. What form of communication do you get the best results in? Do they respond faster via email? Text message? Or a phone call?
How responsive is the hiring manager? Especially when candidates are submitted.
How long does it take the hiring manager to make an offer to the candidate if they are interested?
Review past open positions that the hiring manager had open. The key here is to understand how long they were open and if the positions were filled or not.
Find a hobby or any interest of the hiring manager.
Meeting the Hiring Manager
After doing some research about the hiring manager, it's time to reach out. Send a calendar invite for a phone call to introduce yourself.
Meeting in person is always the best approach. It shows your commitment to the hiring manager and helps develop trust.
During the meeting, briefly introduce yourself and your background. As always, look to exude confidence and your ability to recruit for them. Allow the hiring manager to do most of the talking.
The goal here is to understand as much about the needed position as possible. If appropriate, this is also a time to bring up mutual hobbies and interests you may share with the hiring manager. Though the objective is to bring a new member to their team, you still want to build a repertoire with them.
Keep this area brief as the main intention of meeting the hiring manager is to understand their hiring needs.
Asking the Right Questions as a Recruiter
During the meeting, you want to understand the challenges with the position the hiring manager is trying to fill. After asking the right questions, you will better understand the ideal candidate they want and the hiring manager builds confidence in you.
Here are some questions we recommend asking the hiring manager about a vacant position:
Is this a new role or how long has this role been open?
Do you have a job description, or would you like for us to develop one?
What is the salary range you are targeting? Are you flexible on the salary?
Location of the candidate(s)? Can it be a hybrid or remote?
How fast do you need this position filled?
What are the absolute "must-haves" (requirements) for the candidate(s)? Degrees, certifications? Software knowledge? Years of experience in?
What are some "like to have" qualities?
What does the typical day look like?
What benefits does the company offer?
If I provided the perfect candidate and you liked the candidate, how soon would you provide an offer?
After we screen candidates and send them to you, what will your interview process look like?
Can you describe your company culture? Your team cultures?
What is the hiring manager's management style?
Can you describe the perfect candidate for this position?
Have you found candidates in the past? If so, what happened?
Open to relocation? Citizen status?
Best days and times to schedule interviews?
Can we schedule the interviews, or would you prefer to schedule them?
Do you have internal recruiters sourcing for this position? If so, what platforms and channels are they currently using?
Are you working with other staffing agencies on this role?
Building Trust With the Hiring Manager
As with anyone, trust is something that's earned. With every small accomplishment, recruiters develop trust with the hiring manager. Here are some ways to start developing trust with your hiring manager.
Provide Updates
Understanding the level of urgency is important in identifying the frequency of communication. If the position is urgent, recruiters need to provide daily updates. If candidates were not submitted that day, provide a brief communication explaining how the candidates did not meet the qualifications and that you are working hard to provide more candidates.
Simply put: keep them updated throughout every step of the process. This shows that you are actively working on the job.
Open Lines of Communication
Managers need to feel important. Whether a call, text, or e-mail, recruiters need to be available to respond. If you miss a call, call the hiring manager back immediately. The more time that goes by, the more the hiring manager will feel neglected.
We have had clients come to us (Tier2Tek) for our staffing services simply because they felt neglected by other staffing agencies.
Submitting the Right Candidates
Submitting the right candidates is one of the most important parts of developing trust with hiring managers. We can't tell you how many hiring managers go out of their way to keep ties with our staffing agency because of the quality of candidates we have provided.
When you send your first candidate, make sure they meet all qualifications, have exceptional communication skills, and have strong work tenure.
Provide the Best Customer Service
Understand the hiring manager's unique hiring needs and deliver exactly what they want. In addition, be available whenever they need to contact you and always have a positive demeanor. Perception is everything. Developing exceptional customer service with hiring managers builds tremendous trust.
Domain Expertise
Domain expertise is knowing the industry that you are recruiting for and understanding the position. By understanding the industry and the position, recruiters are more likely to be successful in filling the role.
Understanding the Hiring Manager's Industry
Whether it's IT, finance, or the medical field, recruiters need to understand the industry and be familiar with basic terminologies. This doesn't mean you have to be an expert in the field, but you should know enough to hold an intelligent conversation with both the hiring manager and candidates.
You have to understand what you are looking for, after all.
Understanding the Position Thoroughly
If the client has a job description, review it thoroughly. Specifically, review the requirements section. It provides valuable insight into what's most important to the hiring manager. Moreover, ask the hiring manager plenty of questions to have a comprehensive understanding of the position.
As a recruiter, candidates will ask you plenty of questions about the position. Not having answers to those questions can cause qualified candidates to lose interest. Overall, recruiting isn't a one-sided negotiation. Candidates need to feel as if you understand the role you are providing.
After understanding the position of the hiring manager, research further online. For example, if the position is for a MERN full-stack developer, research what that means. Make sure you understand it and can source candidates according to the hiring manager's needs.
Selling Point to Candidates: Why Work for the Company?
When speaking to the candidates, they will ask about salary and benefits. Therefore, make a list of company perks and have it handy.
The list might include the following:
Salary Range
Stability Of The Position and The Organization
Positives of Working for the Hiring Manager
Fulltime Vs Short-Term
Health Benefits
Paid Time Off
Holiday Pay
Yearly Bonuses If Applicable
Stock Options and Retirement
Educational Reimbursement
Flexible Schedule
Relocation Assistance
Career Growth Opportunities
Maternal Leave
Start the Recruitment Process
Now that we understand what the hiring manager is looking for and the incentives for the employee, we can start the actual recruitment process. The first step is to develop an attractive job post. The goal is to make the job posting clear and enticing for applicants.
Here's how we do it:
Developing Attractive Job Descriptions and Posts
The best recruiters don't always settle for the basic job description given to them by the hiring manager. The fact that the company is having difficulty hiring for the position might be because of a bland job description. Unfortunately, most of the generic job descriptions are not search engine optimized.
Recruiters must master the art of writing compelling job descriptions that sell the role to candidates. The role needs to be found on the web by people that were specifically searching within the criteria. It needs to be tailor-made to attract the correct applicants. It also needs to be convincing.
As we said, recruitment isn't a one-way street. You have to sell to the applicant just as much as they have to sell themselves to you.
Job Titles Are Very Important
Hiring manners can often provide a very vague job description. For example, one of the roles we have worked on was titled Lead Technician. The company conducts business in the low-voltage, audio-visual industry. A more appropriate title might have been AV Lead Technician.
In another case, we had a role called Full-Stack Developer. As the best recruiters, our job is to understand which type of software stack the hiring manager is looking for. The title might need to be changed to MEAN Full-Stack Developer or Django Stack Developer.
In summary, titles need to accurately represent the position that the hiring manager is trying to fill.
Start With Selling Points
The job description needs to start with attractive selling points. Oftentimes, one will see the first paragraph describing the company that has little-to-no selling value. This is the time to hook the candidate.
The first paragraph should be dedicated to the top selling points of the position. Just as employers like to see resumes that list attractive qualities, so do job seekers when they are searching for new opportunities.
For example, start with the benefits of the position. Here is an example:
Cisco Wireless Network Engineer (Notice the detailed description of the title).
Benefits (Starting with the benefits and then discussing the position)

Above National Average Salary: 140k a year
100% Covered Health Benefits
$5,000 Sign-on Bonus
Career Growth Potential
Generous PTO, Holiday Pay
Relocation Assistance
Keep It Short, Relevant, and Attractive
Recruiters often reuse all job descriptions or simply repost the same content provided by the hiring manager. As a result, repetitive terms show up in the job postings to fill space.
Most candidates don't have the attention span to read through all the details. Many have already applied to multiple positions throughout the day. Unfortunately, long job descriptions lose the interest of candidates.
By keeping the job description short and descriptive, recruiters will attract the attention of more qualified candidates.
Keyword Placement for SEO Ranking
The job posting needs to be search engine optimized so that it ranks high and candidates can find it. Here are a few things to keep in mind when developing the job description:
Title: Descriptive, short title.
Title: Place the word "job" at the end of the title. Example: IT Service Desk Analyst Job.
Title: Naturally place the title in a few areas throughout the content.
Title in the URL: when posting the job internally, make sure to have the job title in the URL. For example, https://companydomainorsubdomain/position/IT-Service-Desk-Analyst-Job. This is referred to as the slug.
Keywords: Place multiple keywords throughout the content that candidates would search for. Place them naturally and strategically. Overloading your post with keywords can have a negative effect on SEO.
Content: Spelling and Grammar.
Content Length: 400-to-800 words is ideal for open job posting in SEO.
Image: Craft a unique image that represents the position.
Posting Your Job
You have met with the hiring manager, you understand what they are looking for, and you have crafted a search engine-optimized job description. Now it's time to publish it!
On Company Website Connected to Google Search Console
The first place to list your vacant position is on the company website. The job posting should follow the aforementioned SEO recommendations. In addition, the company website needs to be connected to Google Search Console.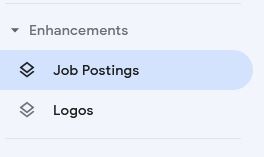 The job posting on the company website must meet all requirements of Google's Search Console. Here is a link to an article from Google about job posting guidelines. In summary, here are a few must-have tags within the job listing:
Position title (required)
Description (required)
Hiring organization (required)
Job Location (required)
Employment type (recommended)
Base salary (recommended)
Posted date (recommended)
Valid through (recommended)
Google Ad Words
Once the job is posted on your website, Google Ad Words can enhance the visibility and response from applicants. However, Google Ad Words can get expensive. Moreover, Google Ad Words takes a great deal of expertise to fine-tune or it can be costly with little ROI.
As a result, companies often hire a digital marketing agency to manage their ad words. If you decide to keep this work internal, make sure to set an appropriate budget and have the right keywords in place.
Facebook Ads
Facebook is often used to develop company branding. Therefore, the company page needs to look professional and informative. Once the company has followers, posting announcements about job openings can attract candidates to apply.
Facebook also has the option of paid ads. Creating job ads can also attract candidates that are not current followers.
Sourcing Through Facebook
On Facebook, recruiters need to use the research tool. Don't just simply post a job; source the talent through the research tool.
For example, recruiters need to join domain-specific user groups. In addition, find the domain-specific user groups in the area that the client is looking to hire.
To find groups, there is a discovery section where recruiters can search for specific groups. By joining these groups, recruiters will have access to passive talent that may not be actively applying to job postings.
Another way to search for talent on Facebook is to use the "people who like" feature. For example, the search could be "people who like network engineers in New York". With this tool, recruiters can find a wealth of talent at may not be actively searching job boards.
Twitter Ads
Twitter also has the option to create digital ads, letting businesses target specific locations for job postings through their business account options.
If you or the hiring business have a Twitter presence, finding talent through ads can be easy work.
Sourcing Through Twitter
Recruiters need to identify the right group or association pages. For example, there are Boolean search functions to find network engineer groups. By joining these groups, recruiters can identify top talent and reach out to them for new career opportunities.
Recruitin.net Is a great online tool to help source candidates through both Twitter and LinkedIn.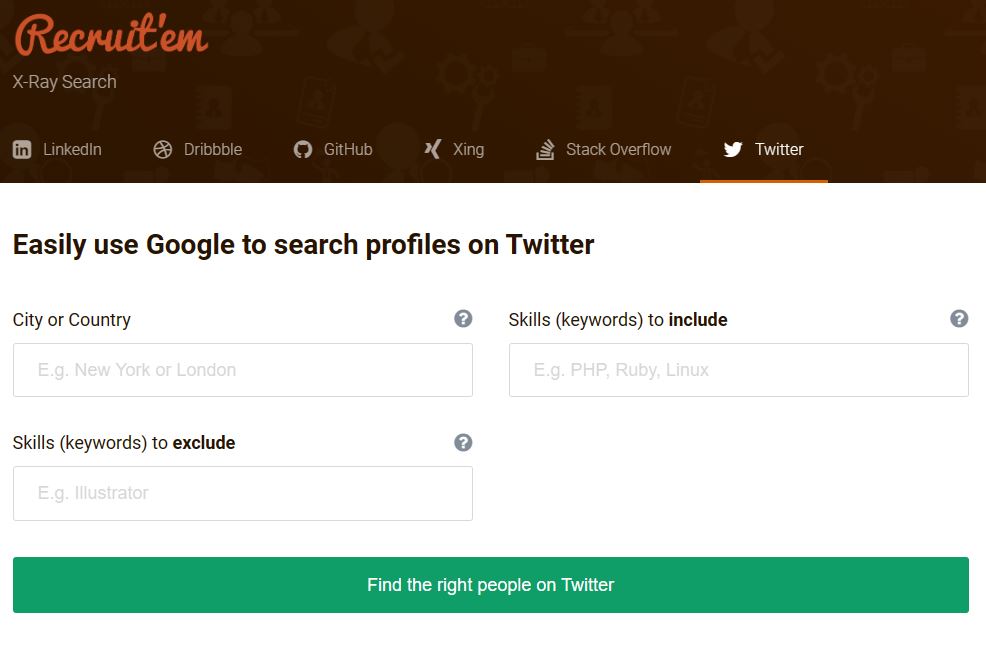 YouTube Ads
The great part about YouTube is that the ads are video-related, which grabs viewers' attention. An ad can be created targeting demographics such as location and industry. YouTube is not the best recruitment platform, but it can have some hidden gems.
While not a go-to, it's an interesting way to find new talent.
Sourcing Through YouTube
One of the ways to source candidates on YouTube is to search the domain you are looking for. By doing so, various videos related to the topic will be displayed.
Go into some of the videos related to the job or field and look at the comment section. Recruiters can find individuals that have made comments on the video that may be strong candidates for a vacant position. Oftentimes, recruiters can find experts that companies would love to have on their team.
It's an unusual tactic and it may take an excessive amount of time. But, if you have the resources to spare, you can find fantastic candidates.
Paid Job Boards
Here is a list of job boards recruiters can pay to post their vacant positions. With paid job boards, recruiters need to identify the best ROI for each specific site.
Some job boards claim to have niche candidates. However, based on our experience, niche job boards have very little ROI.
When working with paid job boards, start off small and evaluate the ROI. If it makes sense then scale up.
LinkedIn
LinkedIn is the world's largest professional social media site. Currently owned by Microsoft, it's backed by a financial giant.
It's important to have a career page with LinkedIn for company branding. There is a cost on LinkedIn if you want to add your career page with listed jobs.
LinkedIn Ads
One of the great aspects of LinkedIn Ads is that recruiters can run targeted campaigns. On the LinkedIn platform, pretty much all users can be identified by a job title in the company. As a result, the targeted ads can be very effective.
Sourcing Through LinkedIn
LinkedIn is the ideal social media platform for sourcing candidates. No other social media platform compares to LinkedIn. With millions of professional profiles, it's the ideal place for recruiters to find the right fit.
One way to source candidates on LinkedIn is to pay for a LinkedIn Recruiter account. The cost of a recruiter account is very pricey, so recruiters need to ensure they can use them effectively.
With a recruiter account, recruiters have access to all user information on LinkedIn.
Unfortunately, even the most expensive recruiter account has limitations on how many InMails (emails) can be sent to prospects.
The great part of InMails is that if a user accepts the InMail, the account is credited back. Therefore, it's important to use it effectively. One way to do this is by reaching out to only active users or users that have the tag "actively looking" in their profile.
How to search for candidates with a Paid LinkedIn recruiter account
The paid search account is self-explanatory and easy to use. Recruiters can run searches by job title, company, keywords, location, and so on.
After running the search, recruiters can send InMails to the potential candidates. If a candidate responds, recruiters can continue the conversation outside of the system.
InMails only allows limited word counts. Therefore, it's important to create a message that's clear and effective.
How to search for candidates with a free LinkedIn account
On a free LinkedIn account, recruiters will not have access to all the profiles on LinkedIn. Profiles are limited to the third connection. Based on how many connections the free account has, it can still be effective.
Another option to search for free is to use a free tool like Recrutin.net (mentioned above) that can generate results on Google. Simply fill in all the criteria and Google will provide links to each profile.
Glassdoor
Most job seekers use Glassdoor to find out the rating of a company. It's a great place to see what current and previous employees say about the company.
With low ratings, job seekers may avoid companies. Companies should ask current employees to provide a review on Glassdoor to improve their online reputation.
Careerbuilder
Careerbuilder is one of the longest-running job boards on the Internet. When posting jobs on Careerbuilder, recruiters need to make sure the job description is centered around SEO. Short, precise titles with easy-to-read job descriptions.
With most job boards, make sure not to use an ATS system. It can cause problems and inaccurately display the job description, confusing applicants. Rather, go directly to Careerbuilder and post the job.
Monster
Like Careerbuilder, Monster is one of the original job boards with a loyal following. In current times, we have found Monster to produce little ROI with job postings.
Sourcing candidates through Monster, on the other hand, can help recruiters find hidden gems. Monster has a lot of passive candidates that recruiters can contact and propose the open position.
Based on our research, the best time to post jobs on Monster is midweek. The job posting should be easy-to-read and the application process needs to be short and simple. Applicants don't like to fill out long application forms.
ZipRecruiter
ZipRecruiter is one of the fastest-growing job boards. After posting on ZipRecruiter, the job post may appear on hundreds of other job boards and websites. As a result, there's a higher chance of getting more applicants to the job posting.
Make sure to have a clear job title and an easy-to-understand description. The job may appear on multiple job boards, but if the description is not attractive, recruiters will not get many applicants.
With ZipRecruiter, recruiters have the option to include a company logo. Company logos yield more applicants over a simple job post. Applicants want to know more about companies before they apply. By having a company logo, applicants can research the company before moving on.
Free or Partiality-Free Job Boards
When we talk about free job postings, we're talking about job board aggregators. In short, these job boards promote open positions by collecting and listing jobs posted on your company website's job page. Therefore, it's important to have your company aggregated by these job boards.
Indeed
Currently, indeed is by far the largest job board in the world. Most of the world's job postings get indexed through indeed. It's the place every organization posts its job.
Indeed tracks the job page of the organization and lists the job directly on their website. When candidates apply, they can apply directly to the company website through Indeed.
You need to make sure the company's job page is aggregated to Indeed. In 2023, it's a necessity.
Post your job for free on Tier2Tek and we will send you the candidates that apply. It's 100% Free.
Tier2Tek will actually review the job posting and make sure it's optimized for SEO. By optimizing it, your job will be displayed to thousands of candidates through Google, where our company is listed as a job board.
Juju is kind of like Indeed but on a smaller scale. It's still a platform worth submitting your open positions on.
One of the best places for blue-collar roles. Some cities are still free to post jobs in. In most cases, the cost is minimal compared to other job boards.
Post Job Free will take jobs listed on your website and list them directly on their job board.
Another free classified job posting website.
State-Sponsored Job Boards
A lot of states have government-sponsored sites that allow employers to post jobs for free. Another great place to post your opening.
College Job Boards
Most universities allow companies to post their open positions to graduates and alumni. College job boards are one of the best places to find entry-level talent.
If you have positions available for veterans, this is the place to post your job.
Another free job posting site for employers.
A free job posting classified.
Sourcing
Sourcing is taking a proactive approach to recruitment. When posting a position, companies only attract active job seekers. You are only available to work with those that are looking for said work.
In general, only around 10% of professionals are active in the job market. That means about 90% of talent are passive candidates that are not actively applying to solicited jobs.
However, there are many talented candidates that are passive in the job market. They don't actively apply but are open to new opportunities. If presented with an enticing role, they would be very interested in applying.
The best recruiters know where to find passive candidates and share new opportunities. The best recruiters know to source and recruit the ideal candidates for their company or clients.
Here are some areas to source passive candidates:
Job boards
Indeed, Dice, Monster, CareerBuilder, and so on are some of the job boards that charge employers and staffing agencies a hefty fee to be able to search their candidate databases. However, recruiters get access to millions of professionals that have registered with the specific job board.
Sourcing candidates from job boards takes experience and commitment. Most of these job boards have search criteria that recruiters can search for such as job title, keywords in resumes, location, years of experience, level of education, and so on.
By completing the search, recruiters can have access to hundreds of candidates that fit the criteria of the vacant position.
The difficult part is engaging passive candidates and getting them interested in the open position. Therefore, it's important to have an effective message that interests the passive candidate.
Sending a Message or Email to a Passive Candidate
Here is an example of the message that might be sent to a passive candidate registered on one of the popular job boards.
Hi Jamie,
My name is Jillian Stephens, a recruiter from company XYZ. I saw your resume on Indeed and I think you would be a great fit for an IT Management position we have open. The salary is $120,000 to $140,000 plus a $10,000 signing bonus. Is this something you would be interested in? If so, when are you available to discuss the next steps?
Thank you,
In addition, make sure to test the message on an internal account before sending it out to candidates. At times, some of the job boards have special characters that get added to the message and can look unprofessional.
Cold Calling a Candidate
Calling directly is one of the most effective ways to get movement on a candidate. When you find an ideal candidate, get on the call ASAP. The interaction should have three parts to it.
Introduction
The introduction should be brief. Start off by stating that you are a recruiter with company XYZ. Next, mention that you saw the candidate's resume and that you have a job opportunity for them.
Discuss the Role
Mention the salary range (if available). Tell them the location of the position or if the role is remote. Next, tell them about the benefits the company offers and ask them if this is something they would be interested in.
It's important to gauge the interest level of the candidate. If they don't seem too interested, don't push it. It will be a waste of time for you and your reputation with the hiring manager. In addition, it's not worth convincing someone of a position they are not sure about only for them to quit after a few weeks. That's a loss for everyone.
Ask a few follow-up questions about their current and past experience. See if they meet the requirements and evaluate their communication skills.
Always keep the hiring manager in mind during the phone call. Is this someone the hiring manager will love to talk to? Keep these things in mind during the phone call.
If everything sounds great, then continue with a few interview questions and take notes to report to the hiring manager.
Next Steps
Make sure to tell the candidate what the next steps will be. One of the most important aspects of calling is to set realistic expectations for further communication with the candidate.
For example, tell them when you will be submitting their resume and how long before they hear back from you. Set expectations and make sure to fulfill promises.
Tips for calling a candidate
Keep the message short.
Always act professionally, not casually.
Speak at a moderate pace so you sound clear.
Be ready for anything.
Always remain courteous and professional.
Voicemail
More than half the time, recruiters will get a voicemail when calling candidates. Leave a short and convincing message for the candidate to call you back. Here is an example:
Hi Jason, my name is Jillian Stephens, a recruiter from company XYZ. I saw your resume on Indeed and I think you would be a great fit for an IT Management position we have open. If you're interested, can you please give me a call back at 555-555-5555? Thanks!
Sending a Text Message to the Candidate
Text messages can be another great way to reach out to candidates. Most people usually have their phones on them, so it almost guarantees they will get your text message.
Unfortunately, a lot of spammers are sending automated messages to people, so your message may fall into that category. Therefore, companies need to be careful on using this method. As a result, the company phone number may get put on a spam list by one of the major phone carriers, a downright horrible outcome.
If you do decide to send a text message to a candidate, make it short, sweet, and to the point. Also, give them the option to no longer receive your messages. An example of a message might be:
Hi Jason, I'm Jillian Stephens, a recruiter from company XYZ. Saw your resume on Indeed. We have an IT Management position open. Would you be interested?
LinkedIn
LinkedIn is the number-one social media platform to find both passive and active candidates. Like other job boards, LinkedIn has a very adaptive search function tool.
Recruiters can search for job titles, keywords, years of experience, and so on. After the search, recruiters can use the same template as above to send InMails to potential candidates.
Universities and Career Fairs
Universities and trade schools are exceptional places to find new talent entering the job market. For example, Tier2Tek has contacts with all the major universities and their Career Service Advisors.
Whenever there's an entry-level position that one of our clients is looking to fill, we have access to graduating candidates with recommendations from counselors. It's a win-win for everyone.
Networking
Attending HR conferences and networking events with other recruiters is very important to finding top talent. After establishing connections with multiple recruiters in various industries, you would be surprised at how helpful the community is at helping each other find top talent. Recruiters should never overlook networking opportunities and building relationships.
Unemployment Office
The local unemployment office is another great resource to establish a connection. For example, our staffing agency has contacts in the unemployment offices in multiple states. When we have a position to fill, we send our contacts a message about the open role.
Unemployment offices have a whole host of candidates looking for new positions. In fact, some states require that unemployed workers apply for jobs they post. When an open position is posted on our site, our contacts at the unemployment office will forward the job to available candidates.
Google and Boolean Search
Boolean involves using sequences of word commands in databases or search engines to find information.
By putting these commands in Google, recruiters can find online profiles of potential candidates for open positions.
There are eight main basic Boolean operators: AND, OR, NOT, Near, (), "", site and inurl.
AND
This command links two things together when doing a search.
OR
This command can link words together when doing a search.
NOT
This command means you want to exclude a specific word when doing a search.
Near
This command means you want words to appear near each other.
()
Focuses on whatever word is placed in your bracket.
""
This command finds the exact phrase.
site
Limits your search to one domain such as site:LinkedIn.
inurl
Limits your search to words found in a URL such as the word 'resume'.
Understanding Candidate Behavior
Reaching Out to Candidates
When reaching out to candidates, there are several options. Whether it's through a job board, a direct e-mail, a text message, or a phone call, understanding candidate behavior is paramount to finding the right fit.
The introductory message needs to be compelling to attract candidates' attention. How candidates respond to the initial message can tell recruiters a lot about their professionalism. Their response reflects their behavior. This will be apparent to the hiring manager, so make sure to understand the behavior of candidates during the initial message phase.
Communication With Candidates
During the communication process, recruiters can measure the applicant's level of professionalism. Whether through text, email, or phone calls, recruiters need to listen carefully.
In written communication, recruiters need to review the quality. The type of e-mail that the candidate sends you will be the type of e-mail they will send the hiring manager.
During a phone conversation, ask a few questions and let them do most of the talking. Do they speak professionally? Do they get to the point, or do they go on tangents?
Is this the type of candidate that the hiring manager would love to talk to?
Interest Level of the Candidate
During the conversation, ask the candidate what they are looking for in their next role. See if it aligns with the vacant position.
Do they seem to have reservations about the position? Or do they seem excited about it? Discuss the deal breakers of the open role and any concerns you may have with the candidate. Dig deeper.
It's very important to measure the interest level of the candidate at this stage to prevent problems later.
Seek Out a Candidate's Career Goals and Path
Ask the candidate what their goals are for six months, two years, and five years. If it aligns with the vacant role, great. If not, either explain to them the outline the job can provide or take their goals into consideration during the decision-making phase.
Interview and Selection
It's very important to submit only the best candidates to the hiring manager. Hiring managers are very busy and your reputation is on the line.
Interview Check-Off List
They meet the qualifications
When hiring managers provide requirements for the position, it's important to make sure candidates meet those requirements when submitting them back.
Recruiters need to list all the requirements and ask candidates specifically about those requirements. For example, years of experience in each requirement can be notes that the recruiter submits to the hiring manager.
Cultural fit
Understanding the hiring manager will help recruiters find the right fit for their team. From industries to departments, the culture of teams can differ vastly.
In addition to the technical qualifications of the position, cultural fit is a strong factor. Ultimately, recruiters must try to find candidates that will fit well with the hiring manager and their team.
Professionalism
How professional are they when they are first contacted? How do they answer the phone call? Respond to an email?
Moreover, asking questions like, "can you tell me about a difficult time you had with a coworker?" can reveal how professional the candidate is and how they handle challenges.
For more information and interview question ideas, check out our article here.
Communication skills
Make sure the candidate has great communication skills. When asked questions, they can articulate answers well and get to the point quickly.
This needs to be verified both written and verbally. Therefore, recruiters need to communicate with them in written form and have an actual conversation with them.
Work tenure
Most hiring managers dislike seeing resumes littered with short-term positions. Unless the candidate had multiple contract positions that ended, resumes with short-term tenures are a red flag.
In short, candidates with multiple job stints reveals challenges with their commitment to employers.
Therefore, it's ideal to find candidates that have strong work tenure in each of their previous positions.
Ask basic qualifying questions
Unless the recruiter is a domain expert in the field, recruiters should stick to basic qualifying questions. Recruiters sometimes make the mistake of asking technical questions and the candidate loses interest because they feel the interviewer is not up to par.
If you don't know enough about the field to ask detailed questions, don't.
Make the interview comfortable and pleasant
The interview is not a police interrogation. By making the interview comfortable and pleasant, recruiters can get a better feel of the candidate's personality.
When interviewing candidates, treat them with respect. When recruiters are too strict or harsh, candidates lose interest in the role.
Discrepancies in resumes and what they talk about
Honesty is very important when looking for potential candidates. Therefore, look for any discrepancies between what the candidate says and what is reported in their resume.
As a result, recruiters can screen for red flags before the candidate is passed on to the hiring manager.
Are they interviewing elsewhere?
Ask the candidate if they are interviewing anywhere else. This is important in order to assess whether the candidate will be hard to close due to other job opportunities.
More importantly, if the candidate is a 10-out-of-10, then the recruiter may want to move very quickly.
Never submit anyone with red flags
If recruiters discover red flags with a candidate, they should never submit them to the hiring manager. Recruiters will only embarrass themselves and lose their reputation with the hiring manager.
Submit only the best
Ultimately, you want to provide the best candidate to the hiring manager. This builds trust with the hiring manager and makes the company more successful.
The hiring manager chose to work with you. Give them the best. Only send candidates that you yourself would hire.
Client and Candidate Feedback
It's always important to keep in touch with clients and candidates. Solicit feedback and stay in communication with both throughout the process.
Client/Hiring Manager
Be reliable
The hiring manager trusts the recruiter to provide quality candidates. Consistently exceed expectations and become a reliable source, time and time again.
As discussed earlier, the recruiter needs to understand the hiring manager and the unique hiring needs. By delivering exactly what the hiring manager is looking for, recruiters will build trust and reliability.
Honesty
Be honest about your limitations and your domain expertise. During the hiring process, be fully transparent with the hiring manager and keep them updated on the process.
Provide top candidates
Part of building reliability and trust with hiring managers is by providing the best candidates. Make sure candidates meet all the qualifications of the hiring manager.
Tier2Tek has had countless hiring managers that come back to us because of our commitment to quality.
Fast communication
Always be available to the hiring manager, whether it be through email, text, or a phone call.
In addition, if recruiters miss a message, always return the message and make them a priority.
Customer service
Always be professional and polite. Understand the hiring manager's unique needs and show them that you understand exactly what they're looking for.
Candidates
Be polite
A career change is a big deal for anyone. Recruiters must be courteous and polite to every candidate that they work with.
Beware of cultural norms and address candidates respectfully.
Rarely, some candidates will be unprofessional. Regardless, recruiters must always maintain a level of professionalism and courteousness.
Respond to communication
When working with candidates, keep notes and make sure to respond to any communication.
At times, recruiters may be working on multiple positions and lose track of communication with candidates. Though tough, try to respond to candidates when they reach out (especially the top ones).
Be honest
Keep candidates updated and be honest throughout the process. If the candidate was declined by the company, inform them immediately.
It's always difficult to inform candidates that they have been disqualified. Nonetheless, be honest and provide them with updates. If a candidate feels strung along by a recruiter, they may never work with them again.
Provide advice on their resume and career
When working with candidates, recruiters should provide advice on resumes and career growth recommendations.
Recruiters review hundreds of resumes and know exactly what hiring managers are looking for. It's a wealth of knowledge that any candidate would love to have. Therefore, recruiters should take the time to provide feedback to candidates that they work with.
Not only will it help the candidate become a better applicant (which helps the recruiter, too), but it also builds a great relationship between the two parties.
At the end of the day, the recruiter's main goal is to keep everyone happy and build future working relationships.