There are many resume tips online. But how do you make your resume stand out when hundreds of applicants apply for a single position?
For example, companies receive countless resumes within the first week of a job opening. When Tier2Tek opens a requisition for an IT support position, we receive around 300 applicants within the first week. That's a lot of resumes to review!
When this happens, recruiters start short-listing resumes as fast as they can. Therefore, you want to make sure you are not short-listed.
Certainly, you must stand out from the crowd to get a response and not short-listed. After many years of interviewing and screening countless resumes, here are our resume must haves to stand out and get interview phone calls.
Although there are many resume tips online, we have narrowed down our top picks. Based on our years of experience screening countless resumes for our staffing agency, we believe these resume tips are the best to follow. Build your resume following these resume tips step-by-step to stand out and start receiving phone calls fast!
Make It Look Good (Use A Template)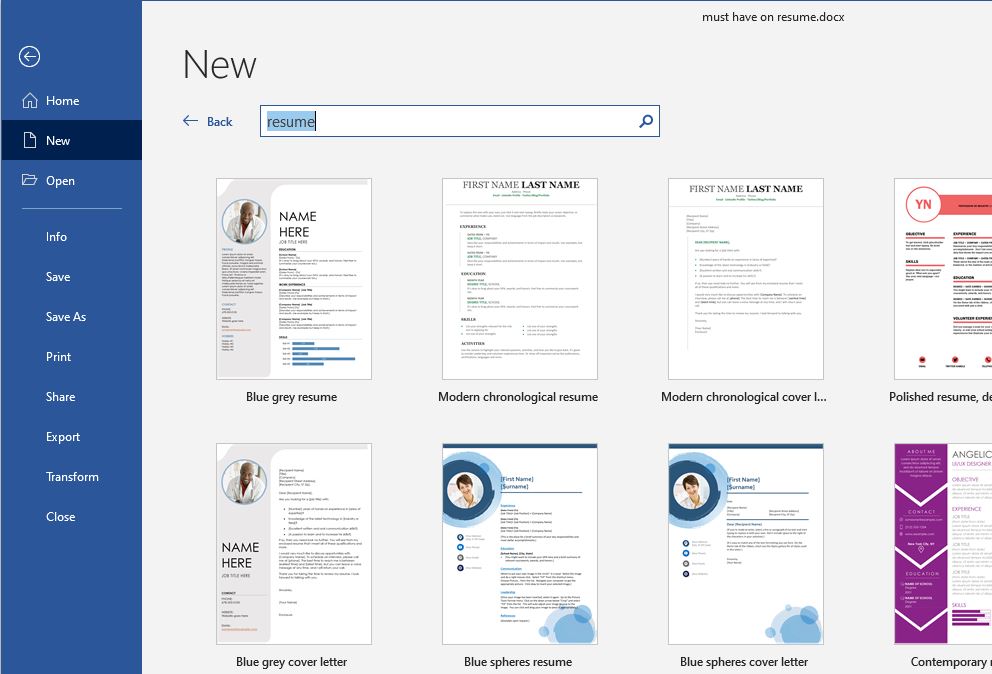 First and foremost, make sure the resume visually looks appealing. We recommend using a resume template from Microsoft Word. To do this, open Microsoft Word and search for resumes in the search bar.
Next, scroll through the resumes and see if one instantly stands out. Take a closer look and save the template you like.
Afterwards, browse through all the resume templates and pick your top three. Finally, choose a final template and start working.
Use Bullet Points
It's important to summarize your skill sets with bullet points. Most importantly, keep them short and concise. Bullet points should not be paragraphs. It defeats the point.
Important Information First
You have roughly five seconds to catch the attention of the hiring manager. Therefore, make the resume look good and put your most important and relevant information first.
Contact Information


Contact information such as name, title, phone number, e-mail, and address are very important.
Have A Title Under Your Name
This Resume tip is extremely important, and majority of resumes neglect it. Unfortunately, we review countless resumes that don't have titles.
In summary, don't force hiring managers to skim through your work history in order to assume your expertise. By providing a title, you let hiring managers know what your expertise is.
Most importantly, you catch the attention of the hiring manager with your title. Afterwards, they give your resume more time to review it in detail.
Email Address
Make sure the domain name of your email address is modern and up to current trends. Many hiring managers short-list resumes simply due to old domain names. It gives the impression that the candidate is not technically savvy. Therefore, make sure to use domains such as gmail or outlook (live.com). This is a resume tip that many candidates don't know about.
Home Address
The home address is still an important factor of resumes. Some hiring managers may prefer local candidates only. Therefore, applying for positions locally with a local home address is very important.
On the other hand, if a position specifically states that the location is remote, then the home address may have no relevancy.
In most cases, we believe having the home address is still an important factor to making resumes stand out.
A Skills & Expertise Section


After your name and title, don't put an objective section. More importantly, replace it with a skills and expertise section.
In this section, have two columns of bullet points highlighting your greatest strengths. Most importantly, keep them relevant, short and concise. Don't overdo it in this section.
In summary, after attracting hiring managers with your formatting and title, you will direct their attention to your skills. With this section, you will gear hiring managers to take a closer look at your resume.
Experience Or Work History

In the experience portion, keep bullet points short and concise as usual. This is an essential resume tip.
Keep Bullet Points Short And Relevant
For work experience that's relevant to the job you're applying for, limit it to four bullet points.
However, if you have experience that is not relevant to the position you're applying for, still list the positions. Certainly, it's important not to have gaps in your employment.
With your irrelevant work history, limit them to one or two bullet points. In short, try to find relevant experience to mention with these positions. For example, "customer service skills in dealing with conflicts" can relate to multiple positions.
List Of Companies, Dates Of Employment And Title
Make sure to list the companies and your dates of employment in your work history. In addition, mention your title and consider providing your reason for leaving.
It's important to understand that hiring managers often overlook resumes with short term positions. Therefore, never take a position and leave within months.
If the position was a contract and had an end date, then by providing a reason for leaving would keep you from being short-listed.
When and hiring manager has concerns about short-term positions in your resume, your "reason for leaving" statement allows you to explain to a hiring manager, so they still consider you.
Education And Certifications


Finally, the education and certificate section should be at the end. Keep it short and brief with accurate dates.
Make It One Page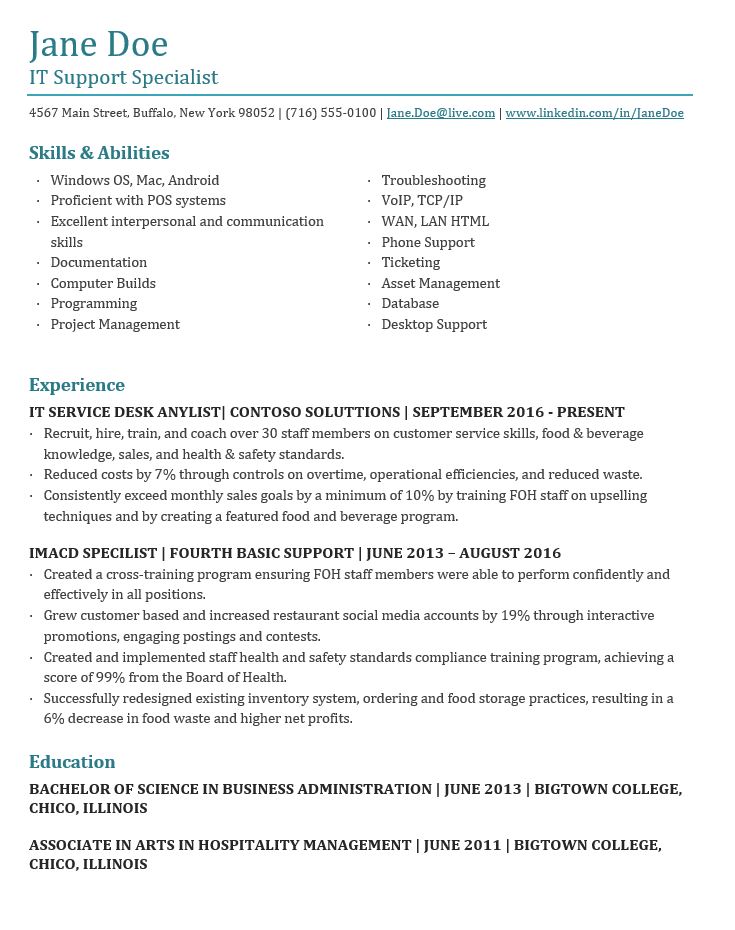 Unless your background has extensive experience, keep the resume to one page. In summary, your resume is an overview of your skill sets and employment history. More details about your experience can be discussed over the phone or during the in-person interview.
However, if you have extensive experience, limit your resume to a maximum of two pages.
Short And Concise
We can't stress this resume tip enough. Keep your resume simple, short and concise.
As stated before, hiring managers received hundreds of resumes for a single opening. Eventually, they get through screening every single resume. Therefore, make sure your resume looks appealing and to the point.
By doing so, you will ensure the hiring manager pauses to look at your resume.
Adjust Your Resume For Each Job
Always keep a master copy of your resume. Whenever there is a position of interest, adjust your resume for that position.
A great resume is designed to give an overview of your background. As a result, the resume shouldn't have extensive details about your skill sets.
To adjust your resume for specific positions, you highlight your skill sets that the job is requesting. By doing so, you ensure a greater chance of landing the position.
Keywords
If the job description has a specific skill set that the company is looking for, make sure to adjust your resume accordingly to those skill sets. In summary, when we talk about keywords, we talk about skill sets that you need to emphasize in order to get phone calls and an in-person interview.
Proofread
After completion of your resume and adjusting for specific companies, make sure to proofread your resume. A rule of thumb is to read your resume out loud to catch mistakes. In addition, have another proofreader review your resume as well.
Resumes should never have spelling and grammatical errors. Additionally, the formatting should be perfect.
Always Send As Pdf
When submitting your resume, make sure to send it as a PDF. From our years of sourcing for our staffing agency, we receive countless resumes that are still in Word Doc form. In general, candidates should not send an editable form of a resume to employers.
Include A Cover Letter
Some people neglect cover letters when submitting their resume. Cover letters show employers your professionalism and interest in the specific position. In other words, a cover letter will put you above the rest in the sourcing process. Therefore, never neglect to send a cover letter with your resume.
By following these tips on what you should include in your resume, you will be in a much stronger position to receive plenty of phone calls and in-person interviews. In conclusion, we believe these are the most comprehensive resume tips available online. If you need help getting your resume to this level, contact us and we will assist you.