Software (SW) Developer Staffing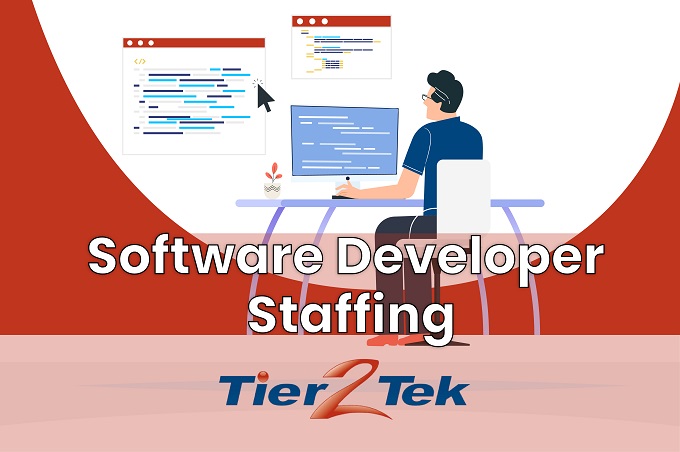 Tier2Tek Staffing Agency has recruiters that can assist your organization with Software Developer staffing.
The Software Developer is a versatile role that requires a great deal of expertise.
Software Developers are highly methodological and have a great deal of precise programming knowledge.
Need to hire in September 2023?
---
For Experienced Software Developer Staffing
Tier2Tek Staffing Firm is a recruitment agency that assists organizations with Software Developer staffing. Although based in Denver, we have Software Developers available nationally to assist your organization with your development needs.
We would like to get to know your business and your immediate hiring needs so we can connect you with talented Software Developers who are in the job market. Please contact us and a dedicated account manager will work directly with you to find the ideal candidate.
What Does an IT Software Developer Do?
Software Developers are computer programmers who are well-versed in the latest computer languages. The developer designs and builds custom software systems for an organization. Moreover, the software can be developed to automate processes and make the company more efficient.
Alternatively, Software Developers can work for companies to help create custom software.
Requirements
Though a broad job description, the Software Developer should have a plethora of experience working with the specific programming language you plan to use. If you do not have a preference, the Developer should have a strong background in the overall development and have a prolific portfolio to back up their work.
Regarding education, the Developer should have at least a Bachelor's degree in computer science or a related field. If they do not have a degree, they should have a wide array of expert experience and proof. Furthermore, they may have experience in other jobs regarding the development and life-cycle of software.
In soft skills, the candidate should be organized and great at communication. They should understand coding and specific languages. Overall, they should be creative and hardworking, helping them create new software and troubleshoot existing issues.
Average Salary
According to GlassDoor, the average salary for an Engineer is $95,753 a year.
Sample Software Developer Job Description for Staffing
Work with team members to identify the best course of action for client requirements.
Builds software that optimizes business processes and streamlines for efficiency.
Continuously maintains and upgrades software based on customer requirements.
Tests and configures software for quality assurance prior to launch.
Analyzes code and identifies problems to ensure the smooth operation of programs.
Ensures privacy is in place with the intellectual property of software codes.
Works with leaders to identify ways to improve the efficiency of programs.
Trains customers on the usage of software and provides documentation.
Qualifications for Software Developer
3-5 years of software applications and development in various languages.
Certification and computer languages for base-level understanding.
Has worked on large-scale software for enterprise-level companies.
Has experience with open-source technology and knows how to avoid intellectual property infringements.
Experience coding languages such as Java, C++, PHP, and more.
Must have exceptional collaboration and communication skills.
Demonstrated knowledge of developing secure software.
Has the ability to identify problems or weaknesses in code and offer methodologies for improvement.
Be able to develop code for multiple projects at a time.
Common Certifications for Software Developer Staffing
Software Engineering Master Certification (SEMC)
You know a certification applies when the job title is in the name!
Overall, the SEMC certification checks for candidate competency in all aspects of engineering. The course and test cover Software Engineering Requirements, Software Engineering Design, Software Engineering Construction, Software Engineering Testing, and a plethora of other software-related topics. Therefore, if the candidate has this certification, they are experienced and knowledgeable in every aspect needed to be a master.
Certified Scrum Master (CSM)
Scrum is a form of program management introduced in the late 1990s. Basically, Scrum is a work and scheduling formula that a company or team can use to help them finish a project with efficiency. The key element here being 'sprints'.
For example, let's say you decide to draw a portrait of your friend. After every feature, you stop to make sure it is correct. After drawing one eye, you check to see if that eye is correct. Nose, mouth, and so on. Therefore, you can fix issues in small increments instead of waiting till the entire picture is finished.
If a candidate has a CSM certification, they are experts in the management framework. Because a lot of development teams work with the Scrum formula, it helps leaders to be certified in the subject.
Microsoft Certified Application Developer 
Provided by Global Knowledge, the MCAD certification shows that the candidate has entry-level knowledge in all things applications. The course and test press all facets of application development, from coding to design, giving the candidate a great foundation knowledge of Microsoft and Microsoft back-end creations.
While this not be as direct as a certification in engineering, it's still a great sign of a competent and driven developer.
Though not as significant as a portfolio of experience and schooling, the certification does show that the candidate has a small level of higher education on the subject. This is a bonus if your company's apps are designed for Microsoft products.
Common Skills
Knowledge of Programming Languages
Due to being an engineer, Software Development professionals will spend a lot of their time working with and using programming languages. Therefore, the candidate should have a strong basis in Java, JavaScript, Python, SQL, PHP, PowerShell, and C. If your company prefers a specific language, then you may look for that specific language in the candidate's resume.
Due to creating and looking over the company's new software and back-end coding for issues, the candidate should be an expert at troubleshooting. Once the Developer goes about creating the software, the rest of their responsibilities will surround upkeep. Therefore, the professional should have expert troubleshooting skills, giving them the ability to quickly pinpoint and fix issues, keeping the application running smoothly.
It's possible the Developer is in charge of a team or department. They may be asked to oversee or plan development schedules. The Developer will be implementing and communicating their research to the development team, helping lead and champion new implementations. Therefore, the candidate should have great leadership and managerial skills (i.e. the aforementioned Scrum certification).
Other Parallel Careers and Jobs
Mobile Applications Developer
Basically, the role is the same as the applications developer noted here. The difference is the platforms and operating systems in which they create the apps.
The Mobile Developer specializes in software platforms such as Google's, Apple's iOS, and Microsoft's Windows Phone platforms. They have strong analytical skills and are able to understand users' needs effectively in order to create applications that serve the business need. Therefore, communication skills are essential to be successful in the position.
Application Developers do exactly what their job insinuates; they develop applications. They help to build the best possible applications for the requirements of the company or business. Usually, these applications can be for the company's internal performance, or they can be for external customers and clients. The developer ensures these applications are built correctly and will maintain and update them as needed.
The next step in the evolution of a Developer is to move up to Project Manager for the development team.
The Project Manager plans and executes multiple initiatives for a company. For example, when a company needs to implement a new solution, the Product Manager identifies, plans, and executes all aspects of the solution. Consequently, they oversee the complete lifecycle of the new initiative.
Highest-Paying States for Software Development Roles