IT Support Staffing Agency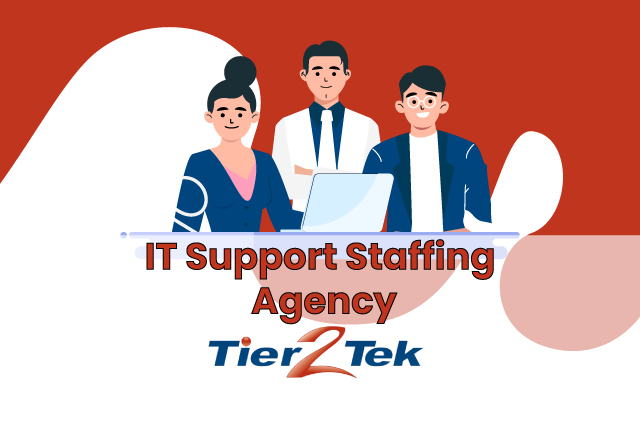 For IT Support staffing, Tier2Tek Recruitment Agency has many prescreened candidates ready to interview today. Simply let us know about your hiring requirements and we will provide you with some of the top talent available in your area. Moreover, we maintain a large database of IT Support personnel updated daily. Contact us today!
Need to hire in March 2023?
---
For Experienced IT Support Staffing
Our employment agency has been staffing IT Support positions for many organizations. For example, we have built out the IT support team for large companies moving their headquarters. In addition to large organizations, we also help smaller local businesses staff.
Because we have prescreened hundreds of IT Support candidates, we are able to provide organizations with some of the best talent available in their markets. From surge staffing to unique hiring requirements, our staffing agency can find the right personnel for your IT Support staffing needs.
What Does an IT Support Specialist Do?
The IT Support Specialist assists business users with technology-related requests, incidents, and problems. For example, when users need help with their computer problems, the IT Support Specialists resolve their issues.
In addition, the IT Support Specialist sets up workstations and assists with network build-outs. Moreover, they maintain and update the asset database for computer hardware and software. They document all requests, incidents, and problems in a ticketing system.
In summary, they set up and maintain information technology support for business users.
Average Salary
According to GlassDoor, the average salary for an IT Support Manager is $88,552 a year.
Sample IT Support Specialist Job Description for Staffing
The IT Support Specialist will be a member of the Corporate Engineering Support team and will be responsible for working with users to improve productivity by resolving technical issues and improving the user experience. This will include employee training, audiovisual systems management, and ongoing administration and process improvement for all managed systems.
Manages inventory. Installs, modifies, and makes minor repairs to personal computer hardware and software systems.
Provides technical assistance and training for system users.
Has experience with corporate IT security/system.
Assists in training new hires.
Provides 24/7 desktop support and Helpdesk administration.
Allocates, maintains, and troubleshoots IT equipment used in offices and facilities.
Has service management, project management, and inventory management skills.
Excellent written and verbal communication skills
Experience working on a high-volume ticketing system to resolve requests.
Troubleshoots hardware/software issues with internal and remote users in a hybrid desktop environment with PC and Mac laptops, desktops, etc.
Troubleshoots mobile issues with iOS and Android devices.
Provides daily maintenance for workstations that are local as well as remote employees.
Onboarding of new employees – provisioning and delivery of computers and setting up user accounts.
Assists with conference room and AV setup and support.
Tracks and monitors existing and potential computer problems.
Makes recommendations to IT Manager for fixes and enhancements.
Helps set up, support, operate, and maintain computers, telephones, audio-visual systems, voicemail, and mobile devices.
Answers customer inquiries in-person and via telephone concerning systems operation.
Provides the very best customer service experience.
Experience Level
The IT Support role is often considered an entry-level job. Oftentimes, those hired for support roles, like customer service representatives, have no prior experience in the exact field. They may have experience in a customer relations role and are then trained to handle inquiries regarding the employer's specific products.
Common Certifications for IT Support
The CompTIA A+ certification is an ideal IT credential for beginners, regardless of what role they plan to go into. Overall, the certification assures that the candidate can install, configure and maintain personal computers, mobile devices, printers, and laptops. It demonstrates both basic technical abilities and troubleshooting skills, things crucial for IT Support.
An ITIL, or Information Technology Infrastructure Library, certification demonstrates that the professional understands the basics of information technology and has learned how to apply it to both customer and business needs. The basis of this certification surrounds IT-related assets, accessibility, and resources that deliver value and benefits to customers. From delivery to maintenance, the basic ITIL certification shows that the candidate understands the interworkings of the related software or hardware.
Google provides associate certifications for all of its pillar software and general IT support. Through a Google class and certification program, the candidate will learn the basics of computer setup, troubleshooting, binary systems, and other basic IT methodologies. Simply put, it's a crash course for general IT support provided by Google professionals.
Common Skills For IT Support Specialists
Customer Service and Communication Skills
Due to the nature of having to communicate with customers and peer users in the troubleshooting and training of issues, the IT Support worker requires a bevy of customer service and communication abilities. Ultimately, they must be able to empathize with customers, understand their problems, and defuse upset situations. Once defused, they must be able to explain the solutions or next steps with clarity and brevity. No one wants to get stuck on the phone with a customer service rep that can't express the solution directly.
Knowledge of Correlated IT
If a specialist is to help fix, set up, and train users on software or hardware, they must be an expert on the overall topic. They must understand all of the product-related jargon and functions to help assist customers. They also must be able to understand and explain solutions using colloquial terms. Though certification isn't always necessary, a certification of knowledge around a product may be a bonus. They are the go-to for the specific product, after all.
Because the specialist may work with a multitude of people daily, they are likely to have to report tickets and maintain notes on each individual user. From recording the overall issues to detailing the steps used to fix them, the worker will have to have great record-keeping abilities. With this information, they can expedite troubleshooting and fixes in the future.
Common Career Path After IT Support
The next logical step for an IT Support worker is to move up to manager. Ultimately, this would involve the inclusion and advancement of managerial skills. Once an IT Support worker becomes an expert in the correlated product and expresses leadership abilities, they will be bumped up to a senior or managerial role.
If the IT support specialist works within a company or with customers relating to the setup and maintenance of computers or other hardware, they may become a Desktop Support Specialist. This position assists end users with technical support of desktop computers, applications, and related technology. Support includes specification, installation, and testing of computer systems and peripherals within established standards and guidelines.
Once an IT service professional understands the core of the business software, they may be moved to a more specific role, covering the application specifically. The application support specialist's duties consist of root cause analysis, data repair operations, methodology execution, and application service restoration. This is a level 3 support position and requires senior-level technical and application expertise.
Highest-Paying States for IT Support