Industrial Engineer
Staffing Agency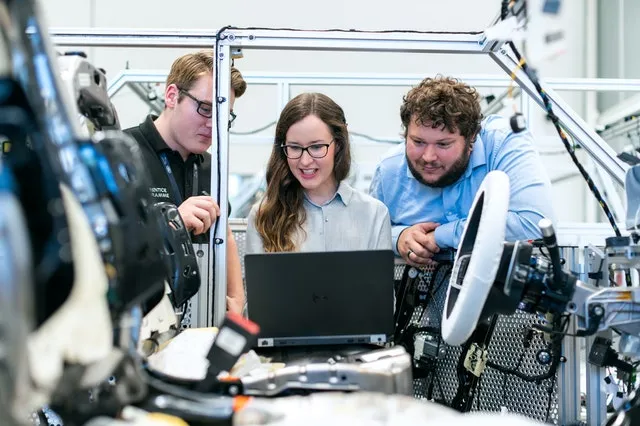 Looking to simplify your staffing?
Tier2Tek Staffing provides premier employment solutions for Industrial Engineer Staffing.
The main responsibility of the role is to oversee the design and creation of company production.
Need to hire in September 2023?
---
What Does an Industrial Engineer Do
Production is a critical point of business and organizations. It's what you create and sell, after all. Henceforth, larger companies require larger production processes, whether factories or assembly lines. These productions aren't created on a whim. A plethora of planning and mechanics go into creating a waste-efficient and time-proficient production facility.
Are you looking for an expert to help design or create production layouts? Need a specialist to increase company efficiency and reduce production costs? You are looking for Industrial Engineer staffing.
Overall, Industrial Engineer is a broad title that deals with any engineer that falls within the industry of manufacturing. Henceforth, this work may involve creating blueprints for new warehouses or troubleshooting the mechanics of a manufacturing plant. If it involves creating and implementing structure within a production center, it's Industrial Engineering.
Example Responsibilities
Overall, develops and improves production processes.
Firstly, works with production staff to identify opportunities for improvement, which may include "bottlenecks" in the process or methods and machines that are not producing an acceptable quantity or quality of work.
Secondly, applies Mathematical Calculations and SPC Methods to determine manufacturing process and production cost standards. Routinely audits all processes, material flow paths, and routings to confirm standard cost accuracy.
Works as Capacity and Utilization model developer and owner.
Works as Engineering Admin Systems Owner. This may include Oracle, ECO, BOM, ECR, NPJA Process, and QMS Engineering path flow through.
Assists with Capital Expenditure Justification, Asset Management, and ROI Tracking when necessary.
Does other miscellaneous Industrial Engineering Tasks as assigned related to cost and benefit analysis, planning for future plant expansions, purchases of machinery, or development of new production areas in response to anticipated production growth.
Assists with the preparation of new product cost estimates by analyzing the production process and costing each step, providing information to be used by corporate engineering and sales staff for proposals and product pricing.
Provides problem-solving support to various plant and corporate functional groups.
Average Salary
According to GlassDoor, the average salary for an Industrial Engineer is $100,608 a year.
Why Work With Tier2Tek Staffing?
Overall, we stand by honesty and communication. We stay in contact with you throughout the entire hiring process. There are no hidden fees or stipulations.
Furthermore, we assign every client a personalized account manager. This allows us to learn about your company's culture and candidate qualifications.
Finally, we have a national database of prescreened candidates ready to work. We can fill any hiring volume with efficiency.
If and when you need a reliable staffing agency that can fulfill your direct-hire staffing needs, Tier2Tek Staffing is the right choice.
Overall, Tier2Tek Staffing has a dedicated team of recruiters that have strategies and resources for attracting and retaining top talent in any organization.
---