Ah, the resume. Your flier as a potential employee. Your first and best chance at getting a job's attention. It's your elevator pitch. It's crucial. So, how do you build the best resume?
Look, the internet is loaded with resume guides. A quick search can net you thousands of answers. But, there's no need to waste your time scouring over different tips. As a staffing agency, we know a bit about what companies look for in resumes. Therefore, we've decided to put all of our tips in one place. Simple and easy, just how we like it.
Buckle up and grab a pen (does anyone actually write anymore?) cause here are all of the tips you need to know to build the best resume this year. Go win that dream job.
---
The Format
To build the best resume, you must actually build.

Now, we're not all graphic designers. If you are a graphic designer, this should be a cakewalk for you. But your resume should stand out aesthetically. Ultimately, you want to grab the company's attention before they even begin to read.
There's a fine line here, though. Your resume should not look like a flier for a local monster truck show; it should not be six different colors with cartoony lettering.
---
1. Resume Color (But Not Colors)
As stated, your resume should have a bit of color. This may include a colored box for your contact information (we'll get to that later) or color in your header. A strip of color down the side is also a possibility.
Do not, and I cannot repeat this enough, do not use more than one color. Two at the most, if it's extremely applicable. Keep your letters black. Keep your page white. It's that simple. Once you start combining colors, things get overlooked. Yes, it should look eye-catching, but you still want the reader to. Well. Read.
This is not a Picasso painting.
2. Use a Template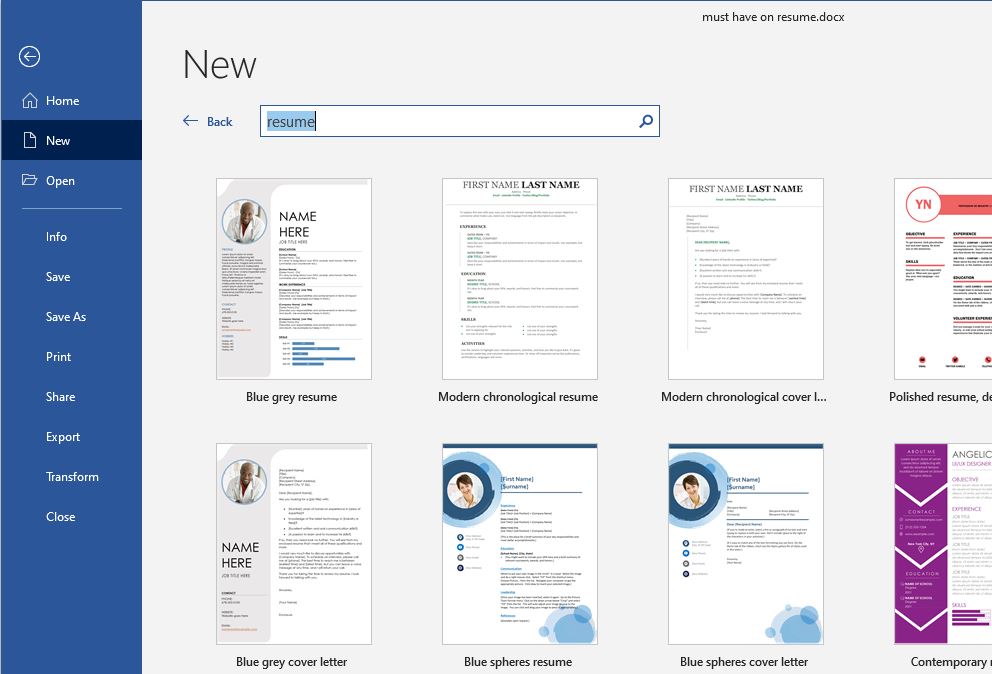 If you are not the most artistic of souls, that's okay! Every word processor has a list of templates for resumes. Start there. If you cannot find something you like, try a different program such as Google Docs.
Just remember the overall rule: Your resume should not be too outrageous and full of colors and shapes. It should pop, but not keep the reader's eye.
3. No Pictures. Special fonts. Or graphics.
This goes without saying. Do not include any pictures on your resume. You do not need a headshot. Though you are a superstar, this is not an audition for a summer blockbuster.
Furthermore, stay away from graphics, illustrations, or abnormal fonts. Keep everything professional and aesthetically simple. Though you want to catch the attention of the job, you want to keep their interest with your actual resume content. Also, graphics do not do well in resume scanner programs, which is a huge factor when applying to large companies.
Skip it. Ditch it. Keep it clean.
4. Bullet Points

Quick note.
You are going to be using a lot of bullet points in your resume. Make sure they're actually bullet points. Dots will do. You do not need to use stars, numbers, or hearts. Hyphens or points work just fine.
---
Introduction
You have picked your resume template, colors and font. Now it's time to start typing. Just as the design of your resume is important for catching attention, so is your introduction. When you build a resume, you want your personal information to stand out. This says the most about you and gives the job a way to contact you.
Here is what to do.
---
5. Contact Information


You have roughly five seconds to catch the attention of the hiring manager. Therefore, make the resume look good and put your most important and relevant information first. Do not be the person to miss out on a job opportunity because you did not have enough contact information or your info was incorrect.
Include your name, title, phone number and email address at the very top of the page. The address is up to you, but you should include the city you reside in. Some jobs are only willing to hire within a certain region, so including a bit of your address will give them a reason to stick around.
Bonus tip: Do not include your age. It's unnecessary. If a job needs to know your age, they will ask. It's not required on a resume. If, say, the job involves something that requires a certain age (like bartending), then you can note that you are over 21.
6. Use a Professional Email, Please
We stated this in our resume mistakes article, but we have to reiterate it here.
Your email address should be professional and include a part of your name, if not the whole thing. Leave gamergod900@hotmail.com in the dust, please.
7. Include a Title

Right under your name should be your title. What are you? What do you do? This exudes confidence and lets the hiring manager know exactly who you are.
Do not be humble here. Even if you are applying for an entry-level job, state that is what you are. You have the background knowledge and tools. For example; if you are applying for an entry-level accounting job and you have a degree in accounting, then say you are an accountant. It's not a lie. You have the correct skills.
Let the company know what you are immediately. This shows that you are confident in your skills.
8. Skip the Objective Section
Some resume guides may try and convince you to write an objective at the top. Do not do this. It is both unnecessary and page-filling. At the end of the day, this information should be left for the cover letter.
Your objective is clear. You want the job you are applying for. If you sent someone your resume, then they know what you want. A fancy introduction is just a waste of space, crucial for a great resume.
Therefore.
9. Build the Best Resume in One Page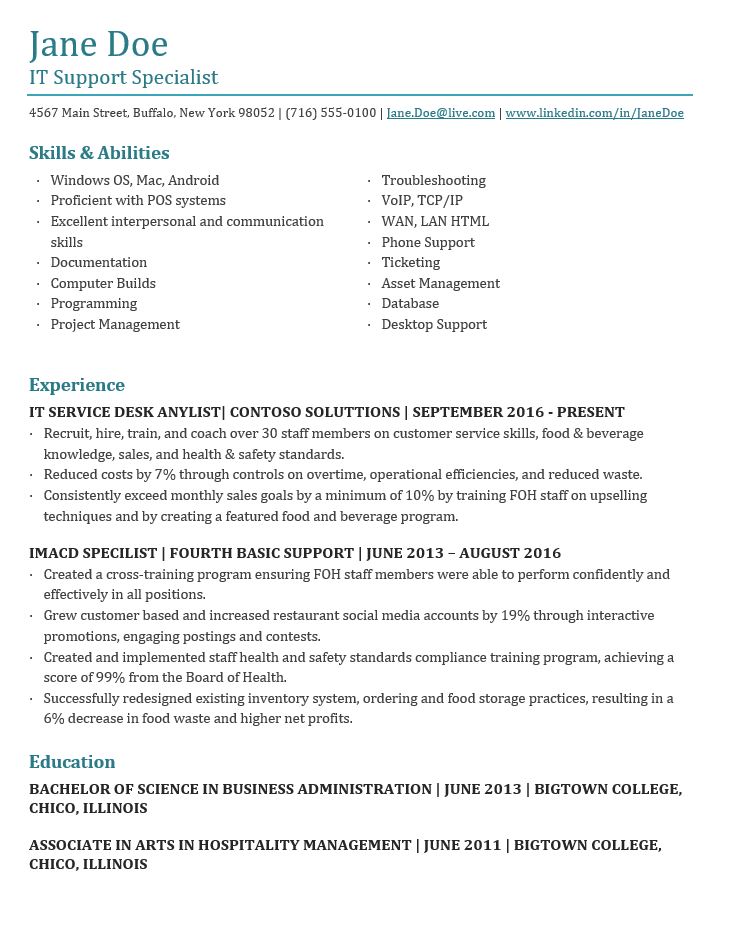 No one wants to read a book.
Look, it's hard enough to get people to read for fun these days. Why try to get a hiring manager to read a book about your life?
Your resume should only be one page. If you simply cannot fit everything onto one page, it should not be more than one and a half. If things are stretching out too long, you need to be more concise.
As we stated at the beginning of this article, your resume is your elevator pitch. You want to sell yourself as an employee as quickly and efficiently as possible. No one wants to read more than one page about your work history, not even hiring managers. Try to get everything across as quickly as possible. Wow them with the good stuff. If they have any further questions, they will ask you in the interview.
10. Precision and Keywords
We are going to continue to hammer this idea home. Be concise. Sure, you may have loads of fantastic job experiences. What is really necessary for this application, though?
If you are applying for a job in graphic design, only include graphic design experience. Keep it short and sweet. If you have other great jobs listed, what do they really say about you? Are they just taking up precious space? What information and keywords are necessary for this exact application?
Try and use words that apply to the job at hand. Henceforth, you should be tailoring your resume to each job you apply for. If you are applying for a graphic design job, your resume should have applicable experiences, words about graphic design and information about your precision with graphic design software. You want to grab the reader, but you also want to grab the attention of resume-scanning software.
Another fine line to note. Do not overstuff your resume with keywords. Continuing with the previous example, your graphic design resume should not say 'graphic design' 100 times. It looks both desperate and generic.
---
Main Content

Time to get into the nitty gritty.
You have caught the company's attention with your precise layout and introduction. You have let them know what your title is and you are ready to sell them on you as an employee. Time for the content.
Here we will break down the important sections of a resume. Fortunately, the order in which these things appear is not critical. As long as your resume is within one page, the hiring manager will read it all. Place these sections wherever you want.
---
Education
Is education really important in your resume? It's hard to say.
Fortunately, it doesn't take up a lot of space, so including some of it should be a given.
---
11. No Work Experience?
Let's get the most simple use of education out of the way first.
If you have little-to-no work experience, use all of your education to build the best resume. For example, if you are a college student and are applying for your first (or second) job, make sure to put all of your education experience.

Put your high school, what years you attended and your GPA. Do the same for your college. Include your major as well. If you have any other educational experience (certifications, higher learning, etc.), add that here, too.
Basically, you want to fill up a whole page for your resume. If you do not have enough work experience to do so, you must fill in the other areas.
12. Is Your Education Applicable?
If you have enough work experience and skills to fill up the rest of the resume, then information about your education is not really necessary.
If the job posting asks for a certain level of education, include it in a short section. Just let the company know that you have acquired the degree or certification they require. Get it out of the way and move on to the good stuff.
Furthermore, if you have a college degree or the application doesn't ask for a requirement, leave your high school out of it. There's never a need to include your high school. Leave it in the past.
13. GPA
Is your GPA really necessary? No, not really.
Does it hurt to add? No, not really.
If you have an outstanding GPA and are already including your education, it's fine to place it. Don't make a big deal about it, though. It isn't truly needed. If you feel inclined to add it, put it next to your college information and move on. It shouldn't take up space.
Overall, if you are years past your college education, your GPA is not needed. Your seasoned experience in the field is more important.
14. Certifications
Certifications should also be added under the education section. If they apply to the job, add them. Keep them brief and keep the dates accurate, just like your education. There's no need to go into what each certification means. If the job calls for certifications, the hiring manager knows what they are.
---
Job Experience
This is the most important thing when creating the perfect resume, so make sure to get it right. Telling a company about how great you are is nice, but you actually have to prove it with corresponding job experience.
Overall, this is the part of the resume that should take up the most space. Even if you don't have many jobs to list, write enough about them to make this the bulk of the page.
---
15. Build the Best Resume With the Best Jobs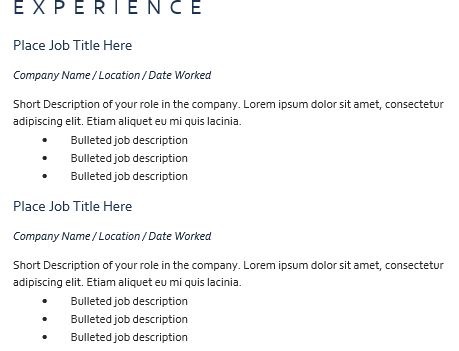 If you have a plethora of jobs to list, good for you. But, pick the ones that concern the job you're applying for. Which ones prove your best qualities? Which ones show that you are capable of the job you're applying for?
Any jobs in the same field, or the same exact roles, should be on this list. That's a given. If you still have space, feel free to add jobs that show how great of a worker you are, too.
Experiences are also applicable if you are low on jobs. Jobs should always come first, though. But, if you have worked freelance gigs or done projects in the field, list them.
16. What to Put
Firstly, put the job title and business name. Include the city or address and the dates that you worked there. Try to be as precise as possible with the date. If you cannot remember exactly, just include the years you were employed.
Secondly, you want to include a brief description of the job. What were your responsibilities? How does this apply to the new job? What skills did you pick up from it?
Remember, be precise. There is no need for fancy prose and fluffy adjectives. Say why the job was important and move on.
17. Achievements
Achievements are great! We are proud of you and your superstar ways.
Ultimately, keep your achievements in your job descriptions brief. If you were promoted five times, say that quickly. If you completed an exemplary milestone, be sure to include 'we' instead of 'I'. You want to look like a team player and leader, after all.
Remember, this section says the most about you. Companies want to hire employees that have great experience in the field. Each applicable job should have a quick paragraph (or bullets points) explaining duties, skills learned and achievements accomplished.
18. Order! Order!
Many resume experts may tell you to keep your job experiences in chronological order. They may say to put your most recent job first and move backward, or vice versa.
All in all, you should have your jobs in chronological order from the past 10-or-so years. You want to display that you have had a solid and consistent work history.
While you should put your jobs in chronological order, you should focus the bulk of the details on the jobs that are applicable. For example, if your most recent job doesn't have anything to do with the job your applying for, but your job before does, give more details about the similar job. That is the one that shows you have experience in the specific field, after all.
19. No Gaps

Having large gaps in your employment may raise more questions than you want. Sure, you can answer these questions and soothe any worries in your interview, but you don't want to throw the hiring manager off before you get to that point.
Employers want candidates that have an extensive work history without large gaps. These gaps may imply you are a bad worker, uncommitted, or lazy, even if you are not.
If there is a large gap between your relevant job experiences, place the intermediate job with dates. You don't have to give much of a description, but you should include it to fill in the timeline.
If for some reason you do have gaps, there's not much you can do. You do not need to go into the reasons as to why you left the previous job or haven't worked. Just write great things about the experiences you had.
20. Avoid Being Too Bland
We're not all writers, but your resume should not read like a boring high school essay. Try to jazz it up a bit with different diction and positivity.
All in all, your resume should have positivity and keywords throughout. You want to come off as confident and expressive in your abilities. You want to seem genuine and excited about your work experience.
---
Skills and Expertise
Now it's time to show them what you've got.
If you have skills and attributes that are important to the job but cannot be listed in the job experience section, nows the time to tell them.
---
21. Build The Best Resume With Skills. Is it Really Necessary?
We like to be unbiased here.
There are two schools of thought about the skills section on your resume. And, yes, there are people out there actually arguing about resumes. I am one of them.
Is the skills section actually needed? Are you telling the employer what makes you special, or just stating the obvious? These are valid questions that all resume enthusiasts ponder.
We believe that you should express your skills in the job experience section. If you are a good leader, state that in the description of your roles. Give a quick example in the job description. Show, don't tell. A company wants to know how you apply the skills to actual work.
For example, instead of putting 'great leader' in your skills section, apply it to a job. If you were a manager, in that specific job description say "As a manager at XYZ, I applied my leadership skills to help our team accomplish XYZ."
If, for some reason, you have skills that cannot be shown through work experience examples, then create a section to list them. But, keep them quick and precise.
22. What Skills Are Skills?

Hardworking and communicable seem like unnecessary words to stuff your resume with.
If you have skills that are outside of your work experience, list them. Be efficient about it, as always.
For example, if you usually work in the graphic design field, but are applying for a content creation role and have outside experience with video-editing software, list it. Say "Fluent in XYZ software."

Henceforth, make a quick list of the things that make you special outside of your past jobs.
23. Keep it Targeted
Do not forget that your resume should be tailored to each job. If your extracurricular skills do not apply to the job at hand, leave them off.
Use keywords, too.
We recommend having a list of skills in a two-column format. These skills should include a few keywords. For example, if the job description notes Photoshop skills repeatedly as a qualification, make sure to put your Photoshop expertise in the skills section. Overall, this should be the quick, attention-grabbing part of your resume.
---
General Tips
Now it's time discuss some overall concepts that you should instill in your resume.
Yes, you have all the main things done, but there is still more to do. There's always more to do.
Time for some rapid fire.
---
24. Build the Best Resume as a PDF
When submitting your resume, make sure to send it as a PDF. It's the most universal format for documentation.
From our years of sourcing for our staffing agency, we receive countless resumes that are still in Word Doc form. In general, candidates should not send an editable form of a resume to employers. Also, how are you sure they have the correct software to open it?
Avoid the hassle and convert your resume to a PDF.
25. Proofread

Nothing turns a potential employer away more than sloppy work. What does a resume filled with typos say about you?
It's easy to overlook mistakes. Simply put, don't. Your resume is the first and best example of yourself. Proofread, proofread, proofread.
There should be absolutely zero typos. Use an application like Grammarly if you are not the best writer.
26. Be Confident!
You are an absolute superstar. You have great work experience and you can bring amazing attributes to the company's table. Express these things.
No one wants to hire a timid employee. Confidence sells. This is your opportunity to brag about your past experiences and skills. Don't be humble.
27. Avoid Being Witty
Leave the jokes aside. This is not an open mic at your local comedy club. It's as simple as that.
Yes, you should try and use expressive language to not sound too generic, but jokes are unnecessary. This is a professional document, after all.
28. Do Not Overuse Keywords
Keywords are great. Not only do they show that you've done your research about the company, but they are great for resume-scanning software.
Don't overdue them. Having too many keywords looks like you are trying too hard. You do not want to come off like a robot. Build the best resume with useful, yet constrained, keywords.
29. Cover Letters?

Remember, you can always attach a cover letter with your resume. In fact, you always should. It shows hard work and the want for the job.
If you feel like you are overstuffing your resume or do not have enough room to boast about yourself, save it for the cover letter. That's the time to write detailed prose about yourself. Remember, build your best resume as an elevator pitch.
30. Follow Up
Everyone makes mistakes. Even if a job doesn't respond to your resume, it doesn't mean they weren't impressed. It's possible that the resume fell to the wayside or is hidden amongst a stack of applications.
It is okay to reach out to the employer to follow up on an application. In fact, it shows your dedication and commitment to winning the gig.
Give the hiring manager a week to view your resume. If they do not, send a polite email asking if they received it. It's as easy as that. No need to rant on about how much you want the job or how qualified you are. Simply ask if they received your application.
31. Build the Best Resume
Like the title of this article states, build the best resume possible. Take the time and effort to create the best possible example of yourself.
Trust us, recruiters and staffers can tell when a resume has work behind it. This is a good thing. A great thing, even.
Use these tips and put together a stellar and proficient resume. Go forth and win that dream job!