A cushy job in the tech industry sounds great, right? Depending on who you are, a cushy job in any industry sounds great. Unfortunately, obtaining one is not as simple as wishing. Despite having a degree and applicable skills, trying to get a job can be a disheartening experience. But do not fret. We all have to start somewhere. Looking for the best entry-level tech jobs is the best way to break into the industry and establish yourself.
Furthermore, here are some of the best entry-level tech jobs in 2023. Go get started and shine, you superstar, you.
1. Help Desk Support Specialist
Let's get this out of the way first; there is nothing wrong with starting at the bottom rung. In fact, with a current unemployment rate of 3.4%, finding a job is more of a competition than ever. The tech industry is one of the most sought-after career pools in the world. Just getting your foot in the door is a phenomenal start.
If you're a fresh-faced graduate looking for a way to pay the bills and strengthen your resume, becoming a help desk support specialist may be the right move. Recruiters, staffing agencies, and businesses are always looking for great technical reps.
Basically, a help desk specialist is the first level of support for users. It's customer service and troubleshooting on the frontline. Usually, you will begin as a Tier 1 representative. You will take calls from customers with issues and attempt to troubleshoot them. If unable to, you will elevate the issue to Tier 2.
Overall, the job can lead to a bit of variety. All calls can be different. If you like working in customer service and figuring out puzzles, this is a great place to begin.
Okay, figuring out puzzles may be a bit of an oversell, but you get my point. It's solving problems. It's fun and rewarding if you are not terrified of speaking to people.
Requirements:
Must have troubleshooting and communication skills.
A customer service background is always a plus.
Technical knowledge of the specific subject is a plus but not always necessary (can be trained).
Must have courteous behavior and patience.
Average Salary:
According to Glassdoor, the average salary for a Help Desk Support Specialist in 2022 is $41,686.
2. Technical Writer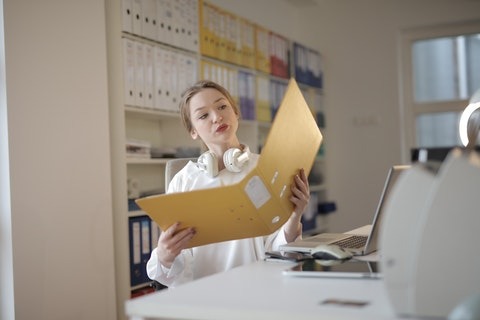 Okay, so maybe you're not a people person. Fortunately, that's pretty common in the tech industry (no offense, really).
All jokes aside, customer service may not be your expertise. That's totally fine. Consequently, most tech jobs require working by yourself and/or with a team.
Technical writing is an entry-level tech job that not only strengthens your resume but has a plethora of different knowledge behind it. Becoming an expert in technical writing can lead to many other tech jobs. Like help desk support, it is a perfect place to start.
The job of technical writers is to, well, write. That's it. You're writing. Whenever a company or staffing agency needs a clear and concise copy, they turn to you. These documents can be related to a company's products, processes, or services.
While it is not technically an IT job, it's a great place to begin if your IT experience or accomplishments are low. If driven enough, you'll be able to get your foot in the door and learn an extensive amount about a company's technical department. You can only go up from there. Right?
Requirements:
Strong writing portfolio. Not necessarily fiction, but logic-based writing (it's not all about flair).
Applicable English or writing education is a plus.
Technical education or experience is a plus.
An analytical mindset. Able to break complex concepts into steps or instructions.
Average Salary
According to Glassdoor, the average salary for a Technical Writer is $61,482.
3. Junior Software Developer
So you're not a people person. You're not a writer. Well, what about working in software itself? Yeah, it's a bit more difficult to launch right into a hands-on IT position, but it is possible. If you've got the education and a bit of experience, you could always apply to be a software developer.
As a software developer, you will work with a company to create custom software. The purpose of the software can range from computer programs to mobile applications. You will test, design and develop these different programs. It involves a proficient knowledge of compiled languages like Java and C++.
Software development roles can fall all over the map. You can be a lead or a junior. There is usually a tiered team within a department, so entry-level positions exist. If you're applying for an entry-level spot on a software development team, get ready for a lot of coding and editing work.
At any rate, it's a start and has an ample amount of growing room. Becoming a lead developer is not a joke, and the easiest way to connect two dots is a straight line. Start where you can.
Requirements:
Bachelor's degree in computer science, software engineering, or a related discipline.
Certification and computer languages for base-level understanding.
Experience coding languages such as Java, C++, PHP, and more.
Must have exceptional collaboration and communication skills.
Average Salary:
According to Glassdoor, the average salary for a Junior Software Developer is $64,755.
4. Social Media Strategist
Are you big on Twitter? Do you believe that your posts and thoughts are not only creative but should be netting you cash? Well, why not become a social media strategist?
In 2022 and beyond, social media specialists will continue to be in demand. Think about it. Why not advertise on the websites we spend the most time on? I'm looking at you, reader. We all know you pour over social media a sickening amount of the day. We all do.
Firstly, a social media strategist manages, strategies, and supports the social media presence of a company. From Twitter to TikTok, a specialist will come up with the next best Tweet or video to promote their company. In addition, they need to have knowledge of each site's algorithm, a grasp on analytics, and creative ingenuity.
Out of all the entry-level jobs in the tech field, this can be the most creative. With the right company, a social media strategist may be able to design and express freely, as long as you stay within company standards and voice. You may work with a team or alone. It's a flexible and fascinating field.
In the grand scheme of things, social media is a fairly new concept. It will only continue to evolve, along with company strategies, going forward. Why not get in on it now? Who knows where it can take you?
Overall, the job doesn't require much in terms of certifications. You do need a strong knowledge of how social media works. It's a perfect gig for a unique and spirited starter.
Requirements:
Must have knowledge of different social media platforms.
Knowledge of writing and analytics. May possibly need design experience, too.
Holistic understanding of digital marketing such as SEO/SEM, social media, CRM, email, etc.
Knowledge of marketing analytics tools (Google Analytics, Facebook Analytics, etc.).
A creative and well-expressed nature.
A degree in marketing or analytics is a plus.
Average Salary:
According to Glassdoor, the average salary for a Social Media Strategist is $69,361.
5. PC Technician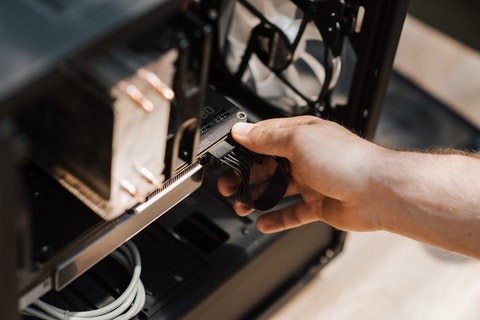 Maybe you're into a more hands-on approach. By this, I don't mean hands on a keyboard. I mean hands-on some dirt and tools. Well, you should look into being a mechanic. But, if you want to work in the tech field, you can always look into becoming a technician.
A PC technician is the one to put everything together and maintain it. Your duties may range from physically putting a computer together to installing software on company computers. Basically, you become the computer handyman for a company.
Whether working in a computer shop or office building, you will be troubleshooting both hardware and software problems. You may also be required to train others on the specific usage of software and hardware, too. It's a job that has a surprising amount of variables. It's far from a daily grind. One day you may be physically cleaning computers. The next day you may be cleaning out someone's virus-ridden computer.
Therefore, you'll probably see a lot of things you don't want to, but that's beside the point.
While becoming an entry-level PC technician may be far from your overall goal, it is a fantastic gig that distributes a multitude of applicable skills for other IT positions. If you have a few years of technician work under your belt, companies will know you can handle a variety of problems and be more liable to bring you on for other positions.
Basically, it's one of the best entry-level jobs because it gives you a variety of different knowledge and experience in tech.
Requirements:
Must have a background in technology.
A degree in a related computer field is a definite plus.
Able to work on various operating systems and devices.
A+ certification or equal experience is usually necessary.
Has great communication and customer service skills.
Knowledge of TCP/IP and internet protocols.
Average Salary:
According to Glassdoor, the average salary for a PC Technician is $42,146.
Got an Eye on an Important Tech Job in 2022?
Tier2Tek has years of experience in staffing all of the listed positions. As a direct-hire staffing agency, we provide jobs for incoming employees and make the hiring process easier for companies. We will help you search for entry-level tech jobs that works with your qualifications and education.
Interested in any of these tech jobs for 2022? Need to fill any of these jobs at your business? You're in the right place.