tips for working from home
The modern workforce has witnessed a significant shift towards remote work, offering employees the flexibility to work from home or other remote locations. While this arrangement comes with several advantages, it also presents its own set of challenges. If you're working from home or considering it, here are some valuable tips to help you stay productive and maintain a healthy work-life balance:
1. Create a Dedicated Workspace
Designate a specific area in your home for work, if possible. This separates your professional and personal life, helping you mentally switch into work mode when you're in your workspace and unwind when you leave it.
2. Set a Schedule
Maintain a consistent work schedule that aligns with your employer's expectations. Clearly define your working hours and communicate them to your family or housemates to minimize interruptions during your dedicated work time.
3. Dress for Success
While you may be tempted to work in your pajamas, dressing as if you were going to the office can boost your productivity and help you mentally prepare for the workday.
4. Establish Boundaries
Set clear boundaries with family members or housemates, so they understand when you're working and should not be disturbed. It's important to communicate your schedule and the importance of limiting disruptions during work hours.
5. Effective Time Management
Efficient time management is critical for remote workers. Prioritize your tasks, create a to-do list, and use time management techniques to maintain focus and productivity.
6. Use Technology Wisely
Leverage technology tools like project management software, communication apps, and virtual meetings to stay connected with colleagues. Ensure your internet connection is reliable for seamless communication.
7. Regular Breaks
Take regular breaks to refresh your mind and prevent burnout. Short breaks allow you to stretch, hydrate, and refocus. Longer breaks, such as a lunch hour, give you time to relax and recharge.
8. Communication is Key
Keep lines of communication open with your team and manager. Be proactive in sharing your progress, challenges, and concerns. Clear and regular communication helps maintain a sense of belonging and ensures everyone is on the same page.
9. Eliminate Distractions
Identify common distractions in your home environment and take steps to minimize them. This might mean turning off notifications, using website blockers, or investing in noise-canceling headphones.
10. Self-Care and Well-Being
Prioritize self-care to maintain your physical and mental health. Stay active, maintain a healthy diet, get enough sleep, and incorporate mindfulness practices, like meditation, into your daily routine.
11. Flexibility and Adaptability
Be flexible in adapting to changes. Remote work may come with unexpected challenges, such as childcare responsibilities. Be prepared to adjust your schedule and workload when necessary.
12. Professional Development
Use the time saved from commuting to invest in professional development. Enroll in online courses or webinars to expand your skills and knowledge.
13. Evaluation and Feedback
Regularly assess your remote work setup and ask for feedback from colleagues or supervisors. Continuous improvement is key to thriving in the remote work environment.
These tips will help you navigate the world of remote work more effectively. Remember that creating a balance between work and personal life is essential to ensure long-term well-being and success. By implementing these strategies, you can maintain productivity, stay engaged with your team, and enjoy the flexibility that remote work offers.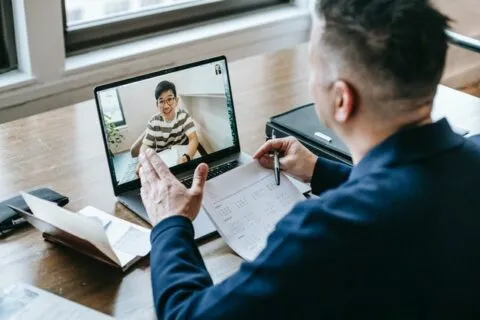 Working from home can be a challenge. Here are the 10 best tips for working from home and staying productive.