Tier2Tek Staffing Solutions in Wichita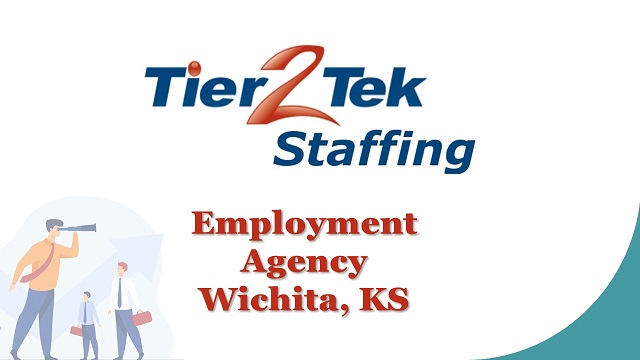 Tier2Tek Staffing, a distinguished staffing and recruitment agency, has established itself as a pivotal force in Wichita's employment sector. Specializing in staffing, recruitment, and direct hire placement, we cater to the unique needs of hiring managers and job seekers in Wichita. Our services are meticulously tailored to bridge the gap between skilled professionals and dynamic companies, fostering a vibrant and productive workforce within this thriving city. At Tier2Tek Staffing, we are committed to elevating the recruitment experience in Wichita, ensuring that each placement is a strategic step towards organizational success and individual career fulfillment.
---

Empowering Wichita's Workforce with Premier Staffing Solutions
At Tier2Tek Staffing, we understand the unique dynamics of Wichita's job market. Our dedicated team specializes in providing top-tier staffing, recruitment, and direct hire placement services. By closely working with hiring managers and job seekers, we ensure a seamless integration of skills and opportunities, fostering a dynamic workforce that meets the evolving needs of Wichita's diverse industries. Our expertise lies in not just filling positions, but in creating meaningful career pathways and bolstering business productivity through strategic talent placement.
Key Features of Our Staffing Solutions:
Comprehensive Recruitment Process: Tailored to meet the specific needs of Wichita's diverse job market.
Industry-Specific Expertise: Our recruiters have deep insights into various sectors, ensuring precise matches.
Long-Term Partnerships: We focus on building lasting relationships with both employers and job candidates.
High Success Rate: Proven track record of successful placements that benefit both parties.

Your Recruitment Agency Partner in Wichita
Tier2Tek Staffing stands as a beacon of excellence in Wichita as a recruitment agency that deeply understands the needs of employers and the career aspirations of job seekers. Our approach goes beyond mere job matching; we strive to understand the culture and values of each company, ensuring that each placement is a step towards greater organizational success and employee satisfaction.
What Sets Us Apart in Recruitment:
Personalized Service: Each client receives dedicated attention to understand their unique needs.
Extensive Talent Network: Access to a wide pool of qualified candidates.
Strategic Matching: We don't just fill roles; we find the right fit for long-term success.
Ongoing Support: Continuous assistance throughout the recruitment process and beyond.
---
Staffing Agency Excellence
In Wichita's diverse industries, there's a growing need for a staffing agency that is both versatile and responsive. At Tier2Tek Staffing, we offer customized staffing solutions to meet a range of needs, from short-term assignments and seasonal placements to long-term projects. We ensure that our clients always have access to the best talent pool, adapting to the rapid changes in the job market with agility and foresight.
Benefits of Our Staffing Services:
Flexibility: Catering to various industries with tailored staffing solutions.
Quality Candidates: Rigorous screening process to ensure top-quality talent.
Rapid Response: Quick and efficient placement to meet urgent staffing needs.
Client-Centric Approach: Prioritizing client requirements and satisfaction.
---
Placement Agency with a Personal Touch
As Wichita's leading placement agency, Tier2Tek Staffing prides itself on making direct hire placements that are both impactful and enduring. We delve into the specifics of each role and the unique culture of our client companies, ensuring that each placement is not just a job filled, but a step towards building a stronger, more cohesive workforce.
Our Placement Process:
In-Depth Understanding: Comprehensive evaluation of both job roles and candidate profiles.
Cultural Fit: Ensuring candidates align with company culture and values.
Strategic Alignment: Matching skills and career goals for long-term success.
Ongoing Support: Post-placement follow-up to ensure a smooth transition.
---
Connecting Talent and Opportunity in Wichita
Our approach at Tier2Tek Staffing goes beyond the traditional boundaries of a staffing agency. We are partners in progress for businesses and a catalyst for job seekers' careers. By leveraging our in-depth understanding of Wichita's employment landscape, we create connections that not only fill vacancies but also drive business success and individual career growth.
Our Unique Approach Includes:
Local Market Expertise: Deep understanding of Wichita's economic and industrial landscape.
Customized Solutions: Tailored strategies to meet specific client and candidate needs.
Strong Network: Extensive connections across various sectors.
Commitment to Excellence: Dedicated to achieving the best outcomes for all stakeholders.
---
The Tier2Tek Staffing Difference
In Wichita, Tier2Tek Staffing is more than a staffing agency; we are a cornerstone of career development and business growth. Our commitment to excellence, combined with our deep local market knowledge, positions us as the ideal partner for all your staffing and recruitment needs. Join us in shaping the future of Wichita's workforce, where every placement is a step towards collective success.
Why Choose Tier2Tek Staffing:
Expert Knowledge: Unmatched understanding of the local job market.
Customized Approach: Personalized services for both employers and job seekers.
Proven Track Record: A history of successful placements and satisfied clients.
Future-Focused: Committed to the long-term success of Wichita's workforce and businesses.