Recruitment Agency in Denver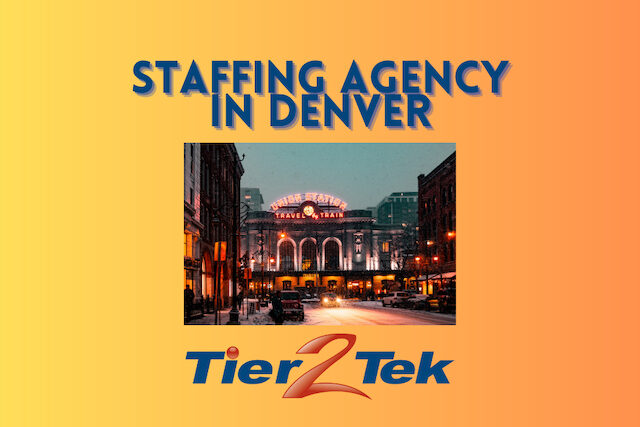 Tier2Tek is a staffing agency based in Denver.
We provide staffing and recruitment solutions in Downtown Denver and surrounding areas.
Our best-in-class employment recruitment process ensures we save our clients time, money, and resources.
From technical recruiting, call center, and customer care positions to general labor employment, we cover it all.
See why so many Fortune 500 companies trust Tier2Tek for their staffing solutions and employment sourcing.
---
Tier2Tek Staffing Agency, Downtown Denver Address
Tier2Tek Staffing
1640 Logan St.
Denver, CO 80203
(720) 722-2385
Located in Downtown Denver, Tier2Tek is one of the fastest-growing staffing companies in Colorado.
Moreover, we provide quality candidates who are thoroughly screened. We understand that our candidates represent the quality of our services. Therefore, we present talent that has the utmost professionalism, solid background, and exceptional communication skills.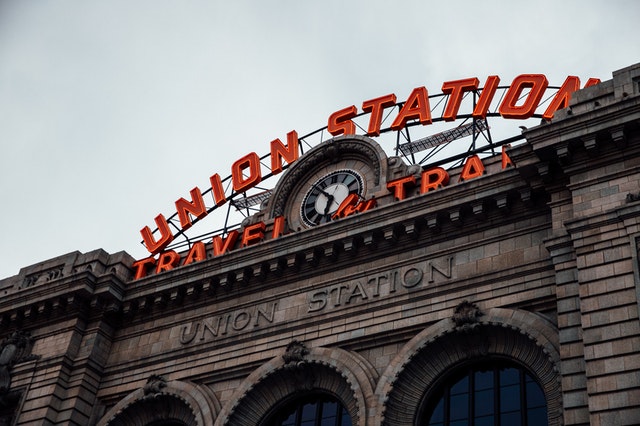 Premier Staffing Solutions In Any Industry
According to Expertise, Tier2Tek Staffing is one of the top recruitment and employment agencies in Colorado. Moreover, our Denver staffing company has connected exceptional talent with amazing companies.
When working with Tier2Tek, you can be sure you will have a recruitment agency that values quality talent. In addition, we listen to your unique situation and provide candidates that fit your exact need.
Most importantly, we take time to understand your organization and your cultural norms. Tier2Tek, a Denver staffing firm, is your one-stop solution for all your staffing needs.
Types of Employment Available
Based on your organizational needs, our staffing agency can provide the right solution. Here are a few employment options available.
Outsourced Staffing (contract employees).
Direct-Hire Recruitment.
Temp-To-Hire.
Temporary (short-term temp for projects).
High-Volume Staffing for New Site Builds.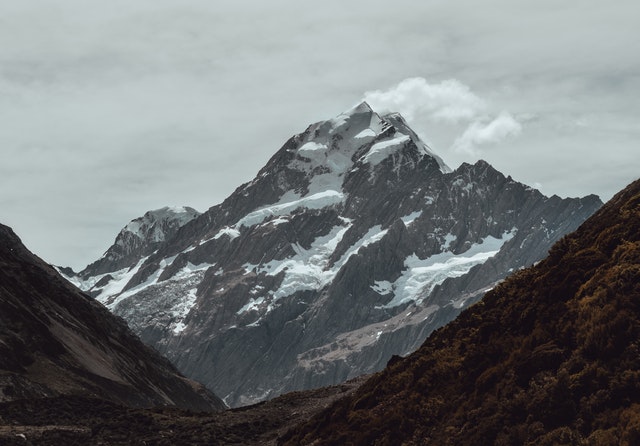 Working With Tier2Tek, a Denver Staffing Agency
Tier2Tek Staffing Agency has helped staff for many organizations, especially in our home city of Denver. Whether your organization needs technical staffing, customer care recruitment, or general labor for special events, Tier2Tek has you covered. From Fortune 500 to small businesses, organizations partner with Tier2Tek for their staffing needs. In addition, there are many roles that Tier2Tek can assist your organization with hiring.
Communication
When you partner with Tier2Tek, you will be assigned a dedicated account manager who will always keep in touch with you, from initially sourcing the right candidates to continuing our quality of service. Designated specifically for your company, the manager can learn all of your values and needs personally. In short, the account manager will ensure top-notch quality services.
Recruitment Speed
We maintain a daily database of screened candidates who are currently in the job market. As a result, we always have quality candidates waiting to interview with the right company. Quality and speed are what you get with Tier2Tek Denver staffing firm. We screen candidates to meet all aspects of the job description. When you're ready, we screen them again to make sure they are the right fit for you.
Best Rates
Our rates are competitive and we ensure the best quality candidates available in the Denver market. With years of experience in the staffing industry, we know what a fair rate is. Moreover, we stay up-to-date with U.S. Bureau of Labor Statistics to ensure fair pricing. As a result, you can be assured you're paying the best rate and receiving best-in-class service.
Industries We Serve
Tier2Tek Denver Staffing Agency works in several industries. Industries we serve include automotive, agriculture, air transportation, broadcasting, computer electronics, education, executive, financial, healthcare, information technology (IT), management, manufacturing, mining, oil and gas, petroleum, professional services, real estate, service industry, telecommunications, and warehouse.
Guarantee Policy
Our services are backed by an industry-leading guarantee policy. That is to say, we make sure our clients have the best experience possible when working with our staffing agency. Take a look at Tier2Tek's guarantee policy. Once you work with us, you'll stay with us.
Interesting Facts About Denver
The Mile High City
The city of Denver is actually one mile high (5,280 feet) above sea level. Therefore, it's named the Mile High City. While the highest town or city in the U.S. goes to Alma, Colorado at 10,353 feet, Denver is still no joke in elevation.
When visiting, one should be careful of strenuous exercise as the oxygen level is lower than in cities at sea level. Furthermore, bring plenty of lotion and water as it can be drier than in other cities.
Denver Is One of the Most Educated Cities in America
According to HeyTutor crunched education, Denver ranked tenth as the most educated in the nation. As a result, some of the most talented candidates in the nation are available in the city of Denver.
With that, Denver is surrounded by an array of fantastic universities. The University of Denver, University of Colorado Denver, MSU Denver and Rocky Mountain College of Art and Design are just a few schools that fall within Denver limits. Therefore, there are great and fresh candidates here daily.
Denver Has a Lot of Professional Sports Teams
In 2021, Wallethub rated Denver as the 6th best sports city in the county. There is a team in every major sport. We host the NFL's Denver Broncos, MLB's Colorado Rockies, NBA's Denver Nuggets, and MLS' Colorado Rapids. We stretch into less popular sports, too. Major League Lacrosse's Denver Outlaws and Colorado Mammoth, and Pro Super League Rugby Club Denver Barbarians call this city their home, too.
If you love sports and passionate fans, you're in the right place.
16th Street Mall, Downtown Denver
Downtown Denver has the 16th Street Mall. For example, it's a place where pedestrians can take free shuttles up and down the mall. As a result, many visitors frequent local businesses. In addition, it's the center of major enterprise companies and corporations in Colorado. Therefore, one will find many white-collar professionals frequenting the area. In addition, Downtown Denver is the 10th largest downtown in America. If you need a place to shop or see what downtown Denver has to offer, this is the place to be.
The 16th Street Mall was designed by architect I.M. Pei, the architect who created the glass Louvre Pyramid on the outskirts of Paris.
The State Capitol Dome Is Plated With 24K Gold
Cha-Ching!
The dome consists of a real gold leaf. That is to say, it is valued at more than $116,000. Moreover, it was first added back in 1908. Additionally, the building was designed by Elijah E. Myers. While many officers are still held within the capitol, they are daily tours throughout to teach the history of the city.
Though historically debated. It is not certain that the 13th step leading up to the capital is officially one mile above sea level.
What's Up With the Blue Mustang Horse Sculpture Near the Airport?
We've all heard of "Blucifer," the unsettling blue horse statue with an even more unsettling name, welcoming you into the Denver International Airport.
Luis Jimenez, the sculptor of the 32-foot mustang, unfortunately, died in an accident while creating the sculpture. While working on the mustang, the statue fell on him and ruptured an artery in his leg, resulting in his death.
It's rumored that the sculpture is blue based on a myth surrounding the San Luis Valley where wild mustangs roamed and one of them had a blue coat, red eyes, and was capable of flying.
Conspiracy theories about both the statue and the airport range from Illuminati to aliens. Unfortunately, we've never seen any UFOs land at the airport.
Denver Is One of the Fastest Growing Cities in the Nation
For example, Denver has doubled in population since 1960. Furthermore, it is ranked as one of the top cities for singles. Additionally, more and more businesses are transferring their headquarters to Denver. In regards to health, USA Today named Denver one of America's top-thinness cities.
The uptick in transplants has escalated in the last decade. Everyone is coming for the weather, sights, and sports. Who can blame them?
Denver's Name Came From Kansas Governor James Denver
In 1858, William Larimer, Jr., a land speculator from Leavenworth, planted the townsite of "Denver City" along the South Platte River in Arapaho County in western Kansas Territory. The name was to honor the then territorial governor of Kansas, James Denver.
Funnily enough, Denver only visited the townsite twice in his life in 1875 and 1882. He was notably unhappy with the lack of fanfare when arriving.
Longest Road in the US
Colorado has the longest continuous street in America, Colfax Avenue. The 'longest continuous commercial street' sits at about 49.5 miles and stretches from Strasburg, CO to Golden, CO. So, if someone tells you to meet them on Colfax, they better be more specific.
The Denver Mint
Established in 1862, The Denver Mint is the largest producer of coins in the world. To clarify, it is located in Downtown Denver. Visitors can tour the site for free.
If you look at a coin and you see a "D" mark on it, it was made at the Denver Mint.