Tier2Tek Staffing Solutions in Glendale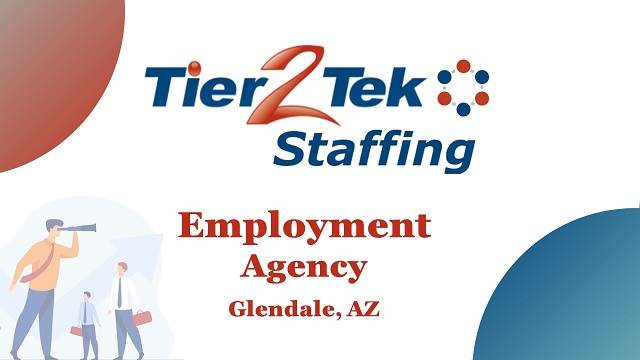 Tier2Tek Staffing, a distinguished provider of staffing, recruitment, and direct hire placement services, proudly serves the vibrant community of Glendale, AZ. Our expertise is deeply rooted in understanding the unique dynamics of the local job market, enabling us to offer tailored solutions that meet the specific needs of hiring managers in this region. With a commitment to excellence and a deep pool of talented professionals, we are dedicated to connecting Glendale's businesses with the ideal candidates, ensuring a perfect fit for both employers and employees.
---
Discover Premier Staffing Solutions in Glendale, AZ
Tier2Tek Staffing stands as a beacon of excellence in Glendale, AZ, offering unparalleled staffing, recruitment, and direct hire placement services. Our dedicated team is committed to connecting hiring managers with top-tier talent, ensuring that every placement is a perfect match for both parties. We understand the dynamics of the Glendale job market and use this insight to provide staffing solutions that are not only effective but also forward-thinking. By partnering with us, you gain access to a pool of pre-screened, highly qualified candidates ready to contribute to your organization's success.
Local Market Insight: Deep understanding of Glendale's job market.
Quality Candidates: Access to a pool of pre-screened, skilled professionals.
Perfect Match: Ensuring compatibility between candidate and company culture.
Forward-Thinking: Proactive solutions for dynamic staffing needs.
---
Your Trusted Recruitment Agency in Glendale
In the heart of Glendale, Tier2Tek Staffing emerges as your go-to recruitment agency. We specialize in understanding the unique needs of local businesses and industries. Our extensive network and deep understanding of the Glendale job market enable us to provide candidates who are not just qualified, but perfectly aligned with your company's culture and values. We take pride in our ability to swiftly adapt to the evolving demands of various sectors, ensuring that your recruitment process is both efficient and effective.
Industry-Specific Expertise: Tailored recruitment for diverse sectors.
Swift Adaptability: Quick response to evolving market demands.
Cultural Alignment: Focusing on candidates who fit your company ethos.
Efficient Processes: Streamlined recruitment for optimal results.
---
Staffing Agency Expertise: Local Talent for Local Success
As a leading staffing agency in Glendale, Tier2Tek Staffing prides itself on a deep-rooted understanding of the local employment landscape. We leverage this knowledge to provide hiring managers with staffing solutions that are tailored to the specific needs of their organizations. Whether it's short-term assignments or long-term projects, our staffing services are designed to deliver results that drive success. Our approach is not just about filling positions; it's about understanding your business goals and aligning our staffing solutions to support them.
Versatile Staffing Solutions: Catering to both short-term and long-term needs.
Business Goal Alignment: Staffing that supports your organizational objectives.
Local Expertise: In-depth knowledge of Glendale's talent pool.
Result-Driven Approach: Focused on delivering tangible business outcomes.
---
Placement Agency Services: Direct Hire for Direct Results
Our direct hire placement services at Tier2Tek Staffing are second to none in Glendale, AZ. We go beyond the resume to understand the aspirations and strengths of our candidates, ensuring that your next hire is not just a fit for the job, but a long-term asset to your team. Our meticulous approach to direct hire placements sets us apart, making us a preferred partner for businesses seeking lasting staffing solutions. We believe in creating connections that not only fulfill the immediate requirements but also contribute to the long-term success of both the candidate and the organization.
Beyond the Resume: Focusing on candidates' aspirations and potential.
Long-Term Asset: Ensuring hires contribute to sustained success.
Meticulous Matching: Detailed evaluation for optimal candidate placement.
Partnership Approach: Building lasting relationships with businesses.
---
Tailored Solutions for Every Hiring Need
At Tier2Tek Staffing, we understand that each hiring manager has unique requirements. Our approach is always personalized, ensuring that whether you need a recruitment agency, a staffing agency, or a placement agency, we have the expertise and resources to meet your specific needs. In Glendale, AZ, we are your partners in success, committed to delivering staffing solutions that make a real difference. Our team works closely with you to understand your specific challenges and objectives, crafting solutions that are not just effective but also seamlessly integrated into your business processes.
Personalized Approach: Customized solutions for unique business needs.
Comprehensive Services: From recruitment to direct hire placements.
Close Collaboration: Working alongside your team for optimal integration.
Real Business Impact: Solutions designed for tangible results.
---
Glendale Labor Market News
In 2021, Glendale had a population of approximately 246,000 people, with a median age of 33.7 years.
The median household income in Glendale grew from $56,991 in 2020 to $60,499 in 2021, marking a 6.16% increase.
The population of Glendale saw a slight decrease of 1.84% from 2020 to 2021.
The largest ethnic groups in Glendale are White (Non-Hispanic) at 43.6%, White (Hispanic) at 20.4%, and Two+ (Hispanic) at 11.4%.
The majority of households in Glendale reported English as their primary language at home.
About 90.5% of Glendale residents are U.S. citizens.
The median property value in Glendale in 2021 was $252,200, with a homeownership rate of 55.9%.
Most people in Glendale commute alone, with an average commute time of 28.5 minutes, and the average car ownership is 2 cars per household.
For more detailed information, you can visit the following sources: