UI Developer Staffing Agency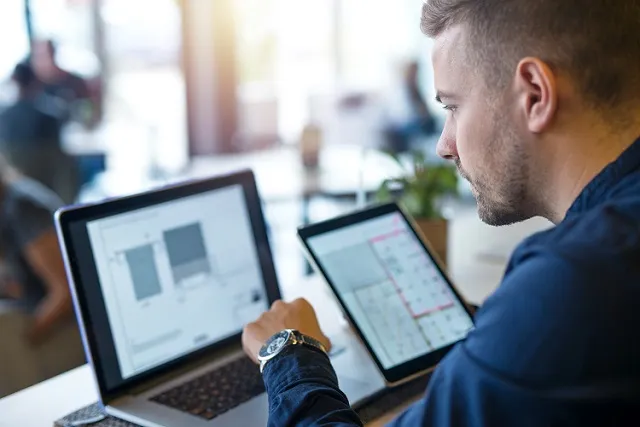 Tier2Tek Staffing and Recruitment Company provides solutions for UI Developer staffing. The UI Developer translates a company's design and ideas into functioning web applications. When it's time to bring ideas to action, the Developer is key.
Need to hire in November 2023?
---
What Does a UI Developer Do?
Overall, the UI Developer designs, develops, and maintains a client's web applications. They are responsible for implementing and advocating for new digital marketing solutions to meet a business' goals. They work with internal IT, product, and marketing teams to build and sustain web marketing applications. Moreover, they are highly motivated, reliable, detailed, and driven to produce high-quality work.
Ultimately, the UI Developer is responsible for an application's look, usage, and efficiency. They use their skills in visual functionality to make sure user apprehension is high quality.
Responsibilities
Brings company designs and ideas to life in web applications.
Advocates and implements the latest digital marketing solutions and strategies.
Ensures the technical feasibility of UI/UX designs and optimizes for maximum speed and scalability.
Has openness and enthusiasm for groundbreaking and disruptive technologies
Is responsible for ongoing support and maintenance. This includes testing, debugging, and applying improvements in a dynamic production environment.
Requirements
Bachelors Degree in Computer Science, Information Technology, Electrical Engineer, or related field with progressive experience in Software Engineering. Consulting experience is a plus.
Solid experience in Responsive Web Design, HTML5, CSS3, JavaScript, Object Oriented JavaScript, JQuery.
Experience with Angular, React, and other modern MV* frameworks
Frontend build tools (Grunt / Gulp) plus experience with GIT and Node.JS
Experience in CSS Frameworks like Bootstrap/PureCSS etc.
Good understanding of UI best practices and RESTful services.
Adobe Experience Manager (AEM) CMS experience is a must
Experience with continuous integration/build tools (Jenkins, Cruise Control)Appreciation for design, usability, cross-browser compatibility, and accessibility concerns
Strong sense of web design and attuned to the fundamentals of user experience.
Strong experience working in multi-functional and distributed teams using SCRUM/Agile development methodologies.