Flight Attendant Staffing Agency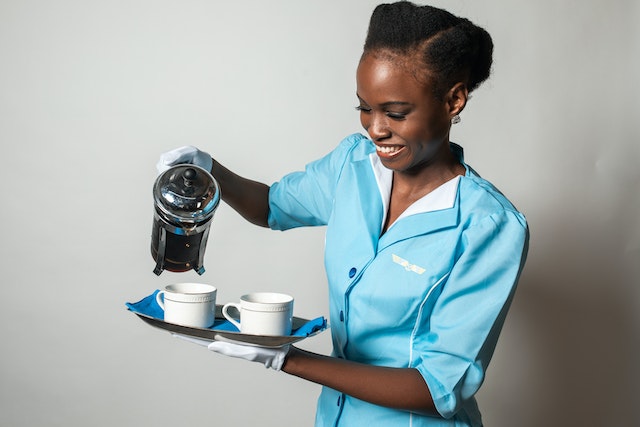 Looking to simplify your staffing?
Tier2Tek Staffing provides recruitment solutions for Flight Attendant Staffing.
The main responsibility of the role is to provide customer service and safety instructions for airplane passengers.
---
What Does a Flight Attendant Do
Looking for a customer service expert to represent your airplane company? Looking for a safety specialist to administer emergency instructions to airplane passengers? You are looking for Flight Attendant staffing.
Overall, the Flight Attendant acts as an immediate and branching liaison between airplane passengers and the administering airline. Due to a flight being… well… entirely in the air, there can only be a certain amount of employees on board. Along with the pilots, the flight attendants are the only other employees present. Therefore, they handle all questions, instructions, and sales during the flight.
As customer service experts, Flight Attendants have both communication and sales skills. They work to keep the flight calm, smooth, and successful.
Example Responsibilities
Is responsible for the safety and comfort of Guests aboard the aircraft while providing exemplary service.
Provides Guests with briefings pre-flight, during flight, and after landing.
Assists Guests by answering any inquiries they may have in addition to aiding Guests with their carry-on items, which may require overhead lifting.
Markets, sells, and provides snacks and beverages to Guests.
Checks emergency equipment and is aware of hazardous situations in the cabin.
Demonstrates the use of emergency equipment as required.
Provides leadership, direction, and assistance during an emergency situation, including aircraft evacuation, administering first aid to ill or incapacitated Guests, and during incidents such as turbulent flights and delayed flights.
Maintains compliance with all Federal Aviation Regulations as well as Spirit's policies and procedures.
May perform other responsibilities as assigned. Responsibilities and duties may change when circumstances dictate (e.g. emergencies change in workload, rush jobs, or technical developments).
Average Salary
According to GlassDoor, the average salary for a Flight Attendant is $57,597 a year.
Why Work With Tier2Tek Staffing?
Overall, we stand by communication. We stay in contact with you throughout the entire hiring process. There are no hidden fees or stipulations.
Furthermore, we assign every client a personalized account manager. This allows us to learn about your company's culture and candidate qualifications.
Finally, we have a national database of prescreened candidates ready to work. We can fill any hiring volume with efficiency.
If and when you need a reliable staffing agency that can fulfill your direct-hire staffing needs, Tier2Tek Staffing is the right choice.
Overall, Tier2Tek Staffing has a dedicated team of recruiters that have strategies and resources for attracting and retaining top talent in any organization.
---