Desktop Support Staffing Agency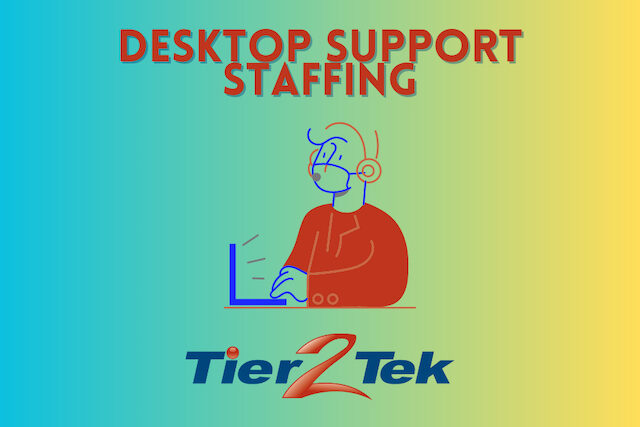 Tier2Tek IT staffing agency specializes in Desktop Support Staffing by finding professional and qualified candidates for most industries. A desktop support specialist is second in line to assist end users with computer problems. After initial phone support, the desktop support agent personally arrives to the end user to resolve technical issues. Please browse all the roles we staff for.
Need to hire in December 2023?
---
For Experienced Desktop Support Staffing
Tier2Tek IT staffing firm has multiple years of experience in staffing for IT support. Most importantly, we make sure all our candidates have a background in desktop support and tier 2 operations. Let us know about your unique hiring needs and we will provide you talented candidates based on your time-frame
Average Salary
According to GlassDoor, the average salary for a Desktop Support Engineer is $74,403 a year.
Tier 2 IT Support Specialist
This desktop support individual has strong communication skills with at least two years of current desktop support experience. This includes hands-on and on-site support as opposed to help desk operations. This position assists end users with technical support of desktop computers, applications, and related technology. Support includes specification, installation, and testing of computer systems and peripherals within established standards and guidelines.
Installs and repairs desktop hardware and software; installs/uninstalls voice and data systems; and processes work orders for voice, video, and data users.
Performs technical support in a formal or informal help desk setting to users with common hardware and software problems, which includes: logging, troubleshooting, testing, adjusting, resolving, or referring problems to the appropriate department.
Acts as a liaison between user groups and the Information Technology unit to communicate problems and possible solutions.
Maintains a computerized inventory of voice and data equipment and specialized services for users.
Maintains technical procedures, documentation, operational instructions, and/or projects.
Reads and understands technical or other complex materials.
Tests in-house or vendor-developed software and software upgrades for user requirements. Also documents errors or discrepancies for correction.
Elementary familiarity with networks and servers.
Windows OS, user profiles, backup, and restore.
Works with Help Desk and Network Operations staff appropriately to determine and resolve problems received from clients.
Updating Asset Management.
Mobile device support.
Knowledge of Audio/Visual.
Troubleshooting corporate printing.
Works with procurement staff to purchase hardware and software.
Assesses functional needs to determine specifications for purchases.
Experience Level
The desktop support role is often considered an entry-level job. Oftentimes, those hired for support roles, like customer service representatives, have no prior experience in the exact field. They may be required to prove their desktop-based abilities (and some job postings require 1 to 2 years of desktop work experience), but they don't often require an outright degree or expert-level experience. Once they have shown ability with hardware, they may be trained for the role through the company.
Common Certifications for Desktop Support
Certified Network Computer Technician (CNCT)
With the basis of desktop support regarding the physical hardware of computers, owning a certification that proves the candidate's straightforward abilities to work on computers is a necessity. Provided by the ETA, the CNCT certification requires passing a test and course that surrounds the basics of electronics, networks, and computer hardware.
The CompTIA A+ certification is an ideal IT credential for beginners, regardless of what role they plan to go into. Overall, the certification assures that the candidate can install, configure and maintain personal computers, mobile devices, printers, and laptops. It demonstrates both basic technical abilities and troubleshooting skills, things crucial for Desktop Support.
Google provides associate certifications for all of its pillar software and general Desktop and IT support. Through a Google class and certification program, the candidate will learn the basics of computer setup, troubleshooting, binary systems, and other basic IT methodologies. Simply put, it's a crash course for general desktop support provided by Google professionals.
Common Skills For Desktop Support Staffing
Knowledge of Correlated Computer Hardware
Overall, the desktop support specialist works hands-on with all user computers and hardware, therefore, they need to have a significant amount of knowledge and skills regarding physical repairs. Though an IT specialist may be versed in overall hardware, they need to be experts on the specific hardware used by the business. For a very general example, a desktop support specialist may be great with PCs, but if the company uses Apple hardware, then they need to have transferrable knowledge.
Because the specialist may work with a multitude of people daily, they are likely to have to report tickets and maintain notes on each individual user. From recording the overall issues to detailing the steps used to fix them, the worker will have to have great record-keeping abilities. With this information, they can expedite troubleshooting and fixes in the future.
Due to the nature of having to communicate with customers and peer users in the troubleshooting and training of issues, the Desktop Support worker requires a bevy of customer service and communication abilities. Ultimately, they must be able to empathize with customers, understand their problems, and defuse upset situations. Once defused, they must be able to explain the solutions or next steps with clarity and brevity. No one wants to get stuck on the phone with a customer service rep that can't express the solution directly.
Common Career Path After Desktop Support
The next logical step for a Desktop Support worker is to move up to manager. Ultimately, this would involve the inclusion and advancement of managerial skills. Once a Desktop Support worker becomes an expert in the correlated product and expresses leadership abilities, they will be bumped up to a senior or managerial role.
Once an IT service professional understands the core of the business software, they may be moved to a more specific role, covering the application specifically. The application support specialist's duties consist of root cause analysis, data repair operations, methodology execution, and application service restoration. This is a level 3 support position and requires senior-level technical and application expertise.
Once an expert on the employer's hardware or software, the specialist may be moved into a more technical role. The IT Technician works to provide technical support to users in the organization and/or customers in person. In addition, they serve as the first point of contact for troubleshooting hardware and software problems. The IT Technician will also assist employees through telephone, email, remote, and in-person. Platforms to support will include Windows, Mac, Android, and iOS.
Highest-Paying States for Desktop Support